Posted on
Tue, Mar 27, 2012 : 5:52 a.m.
Will Chelsea backyard chicken lovers finally get their birds?
By Lisa Allmendinger
A group of backyard chicken enthusiasts is hoping this summer they will be allowed to keep up to four hens in Chelsea because on Tuesday night, the City Council will discuss a proposed backyard chicken ordinance.
The proposed ordinance, which includes strict regulations, was approved on first reading two weeks ago.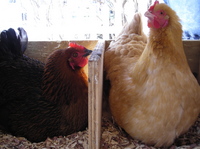 Corinna Borden | Contributor
The group hopes city officials will allow them to own a few hens for egg production on small plots.
Currently, the city's ordinance allows chickens in three city zoning districts — one agricultural and two residential areas. However, homeowners must have at least 5 acres to legally house chickens.
The proposed ordinance would allow up to four hens, but no roosters, on single-family residence properties provided homeowners apply for a permit and pay a yearly fee, which is expected to be about $10.
To receive a permit, property owners must include drawings of the chicken area, its location on the owner's property, as well as the coop's relation to neighboring properties. The chickens must be in a secure, well-ventilated, roofed and lockable structure and the floors and walls must be kept clean and sanitary.
The fenced pen, run or enclosure must be more than 10 square feet per chicken and it must be at least 10 feet from the property line of an adjacent property and cannot be closer than 40 feet to any residential structure on an adjacent property. However, the 40-foot requirement can be waived with written permission from all adjacent landowners.
The chicken areas must be constructed to prevent rats, mice and other rodents from living underneath or within the walls of the enclosure. In addition, feed must be stored in a tightly lidded container in a shed, garage or similar storage structure.
Chickens are to be for personal use and they cannot be slaughtered.
If there are noise, odor or vermin complaints, the city may revoke the permit if a person's chickens are deemed a nuisance twice in a two-month period.
No one who has been convicted of animal cruelty will be allowed to raise chickens in the city.
Lisa Allmendinger is a regional reporter for AnnArbor.com. She can be reached at lisaallmendinger@annarbor.com. For more Chelsea stories, visit our Chelsea page.