Posted on
Wed, May 30, 2012 : 5:58 a.m.
Ann Arbor soon may condemn Hill Street house that's still occupied - by its owner
By Pete Cunningham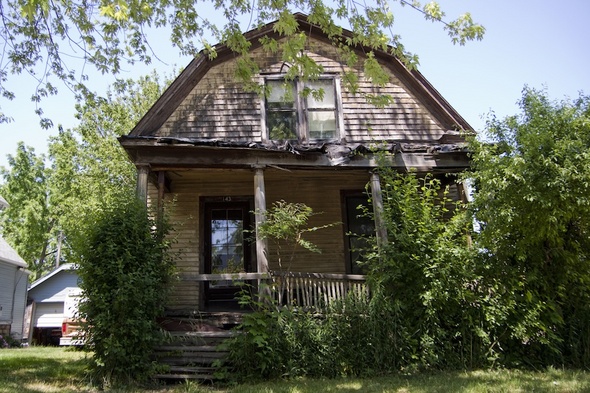 Jeffrey Smith | AnnArbor.com
The
city of Ann Arbor
soon may condemn a heavily blighted property on Hill Street, but there is a serious complication delaying the process.
The owner still lives in the home.
The dilapidated home - located at 143 Hill St. on the corner of Hill and Adams streets, just east of Main - is owned by Ivan F. Hamm. Though most of the homes in the neighborhood are of the older variety with many student rentals, they are well-kept.
Hamm's home stands out with most of the yellow paint on the wood-siding chipped off, plastic covering held on by duct tape where windows should be and a wooden shed that appears to have been collapsed for years in the backyard among other signs of general neglect.
Though the lawn seems as though it's been mowed recently, plants along the home look like they haven't been trimmed in years.
Ralph Welton, chief development official for the city of Ann Arbor, said several attempts have been made to reach Hamm over the past six months with no success. Welton said none of the information on community development block grant funding has been returned nor have any phone calls, and Hamm has never come to the door when home visits were made.
Condemning the home is a last resort, but one the city may come to soon.
"In the end, if he's not willing to meet us, we may have to condemn the house," Welton said. "It's not what we'd like to do, but we want (Hamm) safe and the home does not appear liveable…there's no real easy way to do it."
Though the home has been an eyesore for years and been on the city's radar, it has slipped through the cracks for one reason or another.
According to Washtenaw County records, Hamm has owned the home since 1980. Paul Robertson - who owned several properties on Adams Street since the early '60s before recently selling - said as long as he can remember Hamm hasn't kept up the home despite pleas of neighbors.
"I really don't think I could do anything to persuade him to improve it. I don't think hardly anyone could tell him that," Robertson said. "I had a lot of handy people working for me over a period of time and (Hamm) would occasionally inquire if they could help out on some things.
"(The workers) always came back to me and said 'you can't do a damn thing to (the home), that place will fall down.'"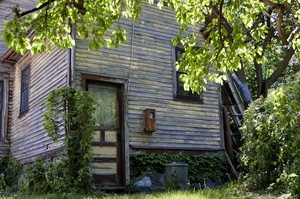 Jeffrey Smith | AnnArbor.com
Robertson said when he sold a home that has a backyard bordering Hamm's for around $200,000, Hamm was incensed that Robertson would sell for that low of a price. According to city documents, Hamm's home has an assessed value of $114,200, giving it an estimated market value of $228,400.
The front porch on the home facing Hill Street is collapsing, with a makeshift barricade nailed across two front pillars that hold up an overhang. The overhang appears fire-damaged, but Robertson said he never recalls a fire.
"That's just rotted down over the years," Robertson said of the porch.
Welton said there is not only concern over the outside appearance of the home. He said neighbors have speculated that hoarding may be going on inside the home.
"It's not a clean situation," Welton said.
Welton said housing arrangements would be made should the city have to condemn the house, but that it's ideal to be able to reach family. Hamm's brother, Eldon, is an Ann Arbor resident.
AnnArbor.com's several attempts to reach Hamm and his family were unsuccessful.
Jorge Viramontes, who will be a senior at the University of Michigan in the fall, has lived across the street since September. He said he's seen Hamm parking cars on football Saturdays and occasionally mowing the lawn.
"He keeps to himself," Viramontes said. "He just seems like a nice, old neighbor guy who's there, but I've never really talked to him."
Robertson said should the city be forced to action, Hamm won't appear so nice.
"In my opinion they'll have to outright condemn it and remove him physically…he won't go easy," Robertson said. "But something has to be done, there's no question about it.
"If nothing else, it's a fire hazard and not just for him, but for every property surrounding."
Contact Pete Cunningham at petercunningham@annarbor.com or by phone at 734-623-2561. Follow him on Twitter @petcunningham.