Posted on
Tue, Feb 23, 2010 : 4:02 p.m.
City officials hope to make Ann Arbor pilot city for new Google initiative
By Ryan J. Stanton
Mayor John Hieftje says city officials are working with the University of Michigan on a proposal to make Ann Arbor one of the first communities in the nation to test Google's newly announced "Fiber for Communities" initiative.
Ann Arbor and U-M officials are partnering with other key stakeholders on a proposal to be submitted to Google by March 26. City officials hope to convince Google to bring its plans for a new ultra-high speed broadband network to Ann Arbor.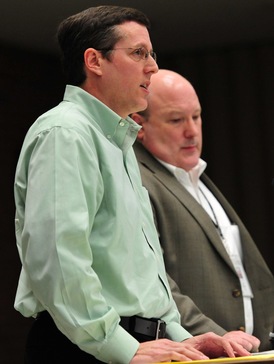 Ryan J. Stanton | AnnArbor.com
Google recently put out a request for information to communities all across the country. It plans to use the information it receives to determine where to build its new fiber network.
"Google is planning to launch an experiment that we hope will make Internet access better and faster for everyone," reads the announcement from Google. "We plan to test ultra-high speed broadband networks in one or more trial locations across the country. Our networks will deliver Internet speeds more than 100 times faster than what most Americans have access to today, over 1 gigabit per second, fiber-to-the-home connections. We'll offer service at a competitive price to at least 50,000 and potentially up to 500,000 people."
Google officials say more details will be distributed in the coming weeks.
Hieftje said he was impressed with the fact that city officials and staff at the university came together immediately to work on a proposal to submit to Google.
Tom Crawford, the city's chief financial officer, gave an update to the Ann Arbor City Council on those efforts Monday night.
"This is a pretty significant event for Google," Crawford said. "It allows them to have a chip in the game of the public policy issue around broadband and how it's installed in the United States and the deployment of it. It's a very exciting opportunity for any community who gets it. Many people consider this to be an economic development incentive for whichever community gets it. In fact there are a number of communities that are installing this in their communities on their own."
Council Member Christopher Taylor, D-3rd Ward, offered the following comments in an e-mail to AnnArbor.com:
"We are confident that our response will demonstrate that Ann Arbor would be a terrific location for Google to conduct this exciting experiment. All parties understand what a tremendous benefit FTTH (fiber-to-the-home) could provide to Ann Arbor and Michigan and are committed to doing everything we can to make it a reality. We will also conduct broad-based outreach to build and demonstrate community support and excitement for the project. Public support is an important criterion for Google as it determines which communities will proceed to the next round."
University of Michigan President Emeritus James Duderstadt is expected to be part of the team heading up the response. Duderstadt was president during the buildout of the NSFNET network, a high-speed national network funded by the National Science Foundation. It launched in 1988 and led directly to the commercialization of the Internet in the early 1990s.
Network engineer Jared Mauch has analyzed the cost of a fiber to the home buildout, using best available commercial technology. His analysis suggests a total buildout cost of about $100 million to put municipal fiber down all 1,647 miles of public roads in Washtenaw County, plus another $1,000 per property to put the fiber online. Mauch has been managing Internet networks since 1993, starting with the local Arbornet network and now with responsibilities for global networks.
Ryan J. Stanton covers government for AnnArbor.com. Reach him at ryanstanton@annarbor.com or 734-623-2529.