Posted on
Thu, Apr 19, 2012 : 1:38 p.m.
City releases request for proposals for Ann Arbor Skatepark
By Ryan J. Stanton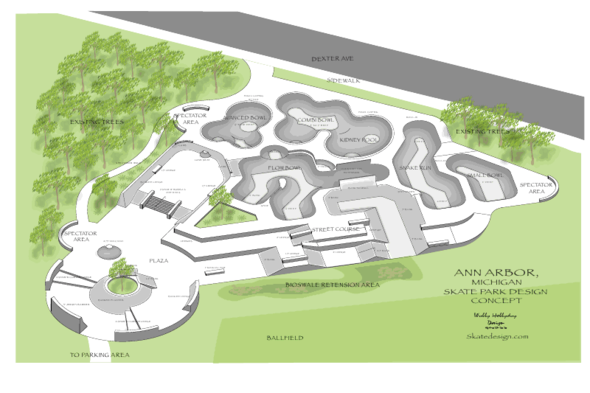 Courtesy of Friends of the Ann Arbor Skatepark
The city of
Ann Arbor
is seeking the help of a reputable design firm to help draw up plans for a
world-class skatepark
at Veterans Memorial Park.
The city put out a request for proposals with the goal of finding a qualified consultant to design, engineer and oversee construction of a concrete skatepark at Vets Park.
Bids are due to the city by May 4.
In order to qualify to submit a proposal, the company must have a minimum of 10 years experience designing and building or overseeing construction of custom, site-specific, poured-in-place, concrete skateparks. Experience primarily with prefabricated elements and surfaces automatically disqualifies consultants from submitting proposals.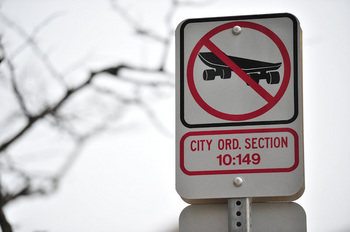 Ryan J. Stanton | AnnArbor.com
The winning bidder also must have a reputation among skateboarders as a reputable skatepark designer with a track record of having designed and built or overseen the construction of at least 10 skateparks of a similar scope that have been in place for at least 10 years.
A pre-proposal meeting will be held at 4 p.m. April 26 at the site of the proposed skatepark near the corner of Dexter Avenue and Maple Road.
In the event of rain, the meeting will be held in the picnic shelter at the south side of the baseball fields.
According to the RFP, the meeting is not mandatory, but it is highly recommended that at least one representative from the design team be present.
The city is encouraging design consultants who are considering responding to the RFP to also respond to a yet-to-be-released build RFP for the actual construction.
"The site allows for an approximately 30,000-square-foot skatepark," the RFP states. "The design must include, but not necessarily be limited to, both 'street' (e.g. flat surfaces, stairs, rails) and 'transitional' elements (e.g. bowls, pools, curved surfaces, halfpipes), lighting and seating, and must accommodate skaters at a range of skill levels, from beginners to advanced."
Trevor Staples, president of the Friends of the Ann Arbor Skatepark, could not be reached for comment. The group announced last month construction — which some originally had hoped would begin later this year — won't begin until next spring.
The scope of services outlined in the RFP includes design and preparation of plans, specifications and cost estimates, construction oversight, contract administration, public presentations, planning document preparation and permit applications.
The RFP stipulates the final plan must meet all stormwater management and other environmental requirements and must complement the current park landscape.
The design must preserve the existing trees and, where practical, incorporate solar-powered lights, drought-resistant species, and low-maintenance ground covers, the RFP states.
The approved contractor also must meet the city's living wage requirement. Effective May 1, companies doing more than $10,000 of work with the city in a 12-month period must pay their employees at least $13.57 per hour or $12.17 per hour plus health care benefits.
It's estimated it will take four months to complete the $1 million project once construction begins next spring, according to the timeline released last month.
Ryan J. Stanton covers government and politics for AnnArbor.com. Reach him at ryanstanton@annarbor.com or 734-623-2529. You also can follow him on Twitter or subscribe to AnnArbor.com's email newsletters.