Posted on
Tue, Aug 2, 2011 : 5:59 a.m.
Civil rights group asks U.S. Department of Justice to monitor Islamic school's rezoning request
By Tom Perkins
The Pittsfield Township Planning Commission has rejected a Michigan Islamic Academy request to rezone property where it wants to build a new school on property it owns at Golfside and Ellsworth roads.
Now, a Michigan Islamic civil-rights group is asking the U.S. Department of Justice to monitor the approval process because of concerns that the school's religious rights may be violated.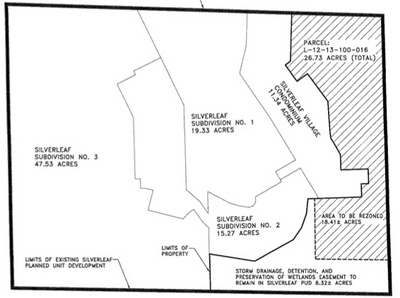 The issue will be on the planning commission's Aug. 4 meeting agenda. Officials are scheduled to vote on whether to recommend the request to the
Pittsfield Township Board of Trustees
.
If recommended to trustee, the board would hold its own vote on the question.
Commissioners previously voted 3-2 to reject the request, with opposing commissioners citing traffic and noise concerns. However, officials involved with the school say two separate traffic studies have shown there would be little impact on traffic levels.
The bulk of neighbor concerns have come from resident in the Roundtree Apartments complex on Ellsworth and the Silverleaf subdivision located just to the property's west.
The property was zoned as part of Silverleaf subdivision and homeowners have said they bought their homes expecting the adjacent property to stay residential. The property was foreclosed and went back to the lender, and would have to be rezoned.
Tarek Nahlawi
, a board member at the academy, said he believes neighbors are opposed because it's an Islamic school.
Lena Masri, a Council of Arabic-Islamic Relations staff attorney and attorney for the school, said CAIR has sent a letter to the department asking them to monitor the situation.
If the department finds evidence of a constitutional violation after the Board of Trustees makes its final decision, then it could launch a full investigation.
Masri explained she believes the school's religious rights could be violated because the township cannot deny it the right to operate due to minor impact on traffic and noise. She said the traffic studies, which were suggested by commissioner Chris Walls, have demonstrated that traffic volume wouldn't significantly increase.
"Our concern is denying a religious neighborhood school the right to operate is a serious abridgement of (the school's) constitutional rights," Masri said. "The township is obligated to look at the facts, and in this situation it is clear there won't be an impact on traffic or noise and none of these reasons constitute a compelling government interest."
In a letter to the justice department, CAIR Director Dawud Walid expressed concern that opposed residents "negatively influenced the planning commission in making a decision against the Michigan Islamic Acadmey…" and stated that "derogatory remarks were also made regarding Muslims and their religious practice" during public comment at the June 16 meeting.
He added that in other similar cases around the country, anti-Muslim activists "raise concerns such as traffic issues and neighborhood harmony with planning commissions and zoning boards to provide legal cover for denial of zoning for mosques and Islamic schools based on prejudice."
The school is planned on a 26-acre parcel on the south side of Ellsworth, where Golfside dead-ends.
Cars would exit via a new, short street that would create a four-way intersection where Golfside dead ends into Ellsworth.
Residents say they are especially concerned because nearby Fortis Academy on Golfside already causes congestion at the start and end of the school day.
But Nahlawi again said the traffic study conducted by a firm recommended by the planning commission found there would be little impact. He added that Fortis is a much larger school with an enrollment over 750. The new Islamic Academy would see around 225 students in its first year and be built to accommodate around 350. The traffic study sought to determine the impact of a school with 350 students.
The driveway running in front of the school is designed to accommodate 70 cars and runs diagonally from Ellsworth to the new street.
Nahlawi said the school has nearly 200 students enrolled. Many families carpool and the school also has two buses and vans, Nahlawi said, so there wouldn't be a situation where the traffic is backed up out to Ellsworth.
Plans also include a community center, but Nahlawi said that project is at least seven years off. He said a separate traffic study would be conducted to determine the center's impact before it is built.
Nahlawi expressed frustration at offering to meet with neighbors on multiple occasions and receiving little response. In early April, the school held an open house at its current Plymouth Road building, but only two people showed up. A meeting at a neighboring home brought out five residents, and no one attended a meeting he held at Starbucks.
"If somebody wants to resolve issues they're going to talk to you, but if they don't want to talk it indicates they just don't want you," Nahlawi said.
Township Supervisor Mandy Grewal called the township a "welcoming and diverse community" and underscored no township officials have made derogatory remarks. She pointed out that the township recently approved a mosque on West Michigan Avenue, and in 2010 approved the use of an entire township park for Islamic prayer service.
"We have been and will continue to follow state law and local ordinances when considering rezoning requests," Grewal said.
Nahlawi said some of the comments at the most recent Planning Commission meeting were disheartening. He said many residents at the meeting stated that they supported the school but didn't feel this was the right location.
"Where is the place for the school? Somewhere on a farm?" he asked.
"I think, honestly, they don't want us there because we're different," he later added. "We came to this country by choice, not by force. We are Americans like everyone else. I don't understand."