Posted on
Wed, Jan 27, 2010 : 6:42 p.m.
Clocking out after 43 years, Huron High's Maggie Jewett still focuses on education
By Ronald Ahrens
Hoping to avoid any hoopla about her retirement after 43 years as an educator, Maggie Jewett figured she had all her bases covered by skipping Wednesday's Huron High School staff meeting.
Not so fast.
The Ann Arbor assistant principal found herself surprised by dozens of colleagues and a few family members who believed Jewett's work was too important to go unrecognized. There were speeches and songs, and she even received a clock - along with principal Arthur L. Williams' disclaimer that the school couldn't afford a gold watch.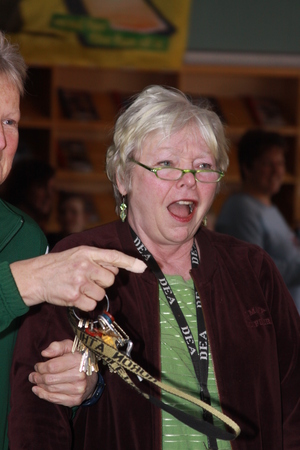 "It was very sweet of them to think of me," she said at the end of the midday ceremony held in the school's media center.
"I was just a kid when I started," she said, reflecting on the more than four decades of service. "I hadn't even had my babies. Now they're grown, and I have grandchildren."
Her career began in 1966 with two years in Inkster Public Schools. She was hired in 1969 as a mid-year replacement at Scarlett Middle School, where she taught English and social studies.
In 1972, she joined the staff at the new Community High School and taught social studies until being tapped by principal Liz Gray for an important mission.
Jewett undertook the organization of the school's community resource program.
Students were allowed to seek out expert instruction in subjects that weren't offered in the curriculum, and they received credit for their efforts.
An enormous amount of organizational ability was required to launch the program, Gray recalled. But the initiative placed Jewett and her colleagues, Vicky Henry and John Van Black, at the vanguard of educational practices.
About 60 students participated at first. Today, the program is offered in the Ann Arbor Public Schools' other high schools, with about 1,000 students participating.
"It saved so many kids," Gray said.
Jewett became assistant principal at Community, and thus was part of the first all-female administrative team in the state, she said.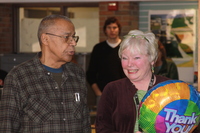 "There hasn't been a job assigned that she didn't step up to," Gray said.
Back in mid-1980s, Van Black was assigned to oversee a homeroom class at Community. He recounted how two senior girls in his group had a spat over the same boy. One of the pair enticed a large group of fellow students, mostly boys, to throw eggs at the other girl's car, which occurred away from school grounds at lunch time.
Jewett, who was outraged, threatened to suspend everyone. But Van Black persuaded the kids to clean up the car and make apologies. He also persuaded Jewett not to take the incident to the district's central administration because of the delicate matter of explaining just what sort of enticement had been extended.
Van Black said he likes to tell the story to illustrate how Jewett was capable of not taking herself too seriously.
She was the last original Community staff member, serving 30 years at the school before leaving to become assistant principal at Forsythe Middle School in 2003, said her husband, Coleman Jewett.
She came to Huron for the 2006-2007 academic year.
"Maggie is a veteran administrator with long years of experience," said Williams. "She's humane, thoughtful and very detailed. The thoughtfulness shows up in how she deals with students and the staff."
In more than one testimonial, she was lauded for her patient approach to teaching and administration, as well as for her great listening skills.
"She gave kids time," said Henry, her colleague from Community. "Her ability to hear kids is almost unmatched. It's a wonderful trait."
Jewett's last day on the job is Friday. She expressed some worry about waking up Monday and not feeling needed, saying she has found "much meaning in helping kids."
But the Scio Township resident will definitely have time for birding, her serious avocation of the past 25 years. After learning the songs of more than 200 birds, she has contributed her expertise to bird population surveys.
"What I was ultimately trying to do was use my skills to advance knowledge," she said.
As her sister, Shar Carlton, wrote in a testimonial read Wednesday: "She may be retiring, but she will always be an educator."
Ronald Ahrens is a freelance writer for AnnArbor.com. Reach the news desk at news@annarbor.com or 734-623-2530.