Posted on
Thu, Mar 8, 2012 : 7:55 a.m.
Cold front to send temperatures plunging in Ann Arbor area
By Cindy Heflin
After enjoying a balmy day Wednesday with highs in the 60s, the Ann Arbor area is in for a big change today.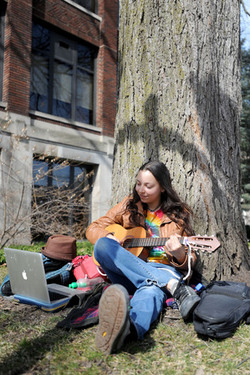 The temperature stood at 54 while light rain fell at 7:30 a.m., but a strong cold front moving through the area will send temperatures plunging this morning, the National Weather Service said. Temperatures are expected to fall into the upper 30s by late morning.
Strong winds with gusts up to 40 mph will make it feel even colder. The cold front will bring a round of heavier showers and possibly some thunder Thursday morning. Most of the rain should end before noon.
The temperature is expected to continue falling Thursday night, with a low around 29. Friday, we'll get a mostly sunny day, but it will continue to be breezy and cool, with a high around 37 and wind gusts up to 33 mph.
We'll be back on a warming trend by Saturday, with mostly sunny skies and a high near 46. Sunday, expect a mostly sunny day and a high near 54. By Wednesday, temperatures are expected to be back in the low 60s.
For updated forecasts and conditions any time, check AnnArbor.com's weather page.