Posted on
Wed, Jan 18, 2012 : 2:39 p.m.
Cold front will plunge Ann Arbor into the deep freeze; snow to follow
By Cindy Heflin
Break out the down coats, boots and furry hats. A one-two punch of cold and snow is headed our way.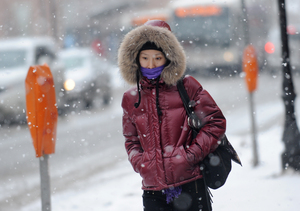 Melanie Maxwell | AnnArbor.com
A cold front headed for the
Ann Arbor
area will send temperatures plummeting into the single digits Thursday night. Snow is expected to move in as well with about 4 inches expected Friday night, said Amos Dodson, National Weather Service meteorologist in White Lake Township.
After a high of about 27 today, temperatures will remain mostly steady overnight and then begin falling during the day Thursday. They'll drop a low of around 6 degrees. Wind chill values could drop to 1 below zero.
About an inch of snow is likely Thursday but most of the snow will come Friday. About an inch is expected during the day with 2 to 4 more inches likely Friday night.
But take heart. Our little dip into the deep freeze won't last long. "Friday and Saturday will still be cold, but only a few degrees colder than normal," Dodson said. By Sunday, temperatures will be back in the mid-30s.
For updated forecasts and conditions anytime, check AnnArbor.com's weather page.