Posted on
Mon, Dec 5, 2011 : 7:17 p.m.
After Penn State scandal, U-M to set expectations for employees who suspect abuse
By Kellie Woodhouse
The Penn State scandal is likely to influence the University of Michigan's approach to how its campuses deal with suspected child abuse, President Mary Sue Coleman said Monday during a meeting with the executive arm of U-M's faculty senate.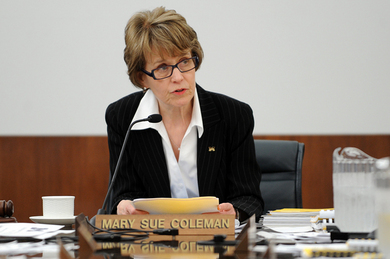 The Senate Advisory Committee on University Affairs voted to approve a resolution to set expectations for a university community member who suspects criminal activity.
The resolution is in response to last month's Penn State scandal, in which university administrators were accused of covering up alleged child sexual abuse by longtime assistant football coach Jerry Sandusky.
The resolution expressly states that faculty should come forward if they suspect sexual misconduct or abuse. It also seeks the formation of mentorship training and education programs and requests that university administrators closely review all U-M programs that work with children.
"It is critical that students, staff, faculty and administrators take individual responsibility in matters of suspected or actual criminal activity," the resolution states. "This is true both for witnesses who believe they have credible evidence of criminal activity and for victims who may be reluctant to take on seemingly daunting and powerful opponents."
Coleman, who spoke at the advisory committee's public session Monday, said university administrators are in the process of creating a task force to examine policies for recording, reporting and preventing abuse.
She said there are "many, many places across the institution" where students, staff and faculty interact with children.
Kate Barald, chair of the committee, said there are nearly 100 university-sponored groups that interact with minors on a regular basis.
"What are the gaps in our policies and procedures and how might we address those gaps?" Coleman asked, adding that she wanted the faculty senate's help in identifying problems.
Rachel Goldman, a committee member and engineering professor, said university employees and students should be vigilant looking for and reporting abuse.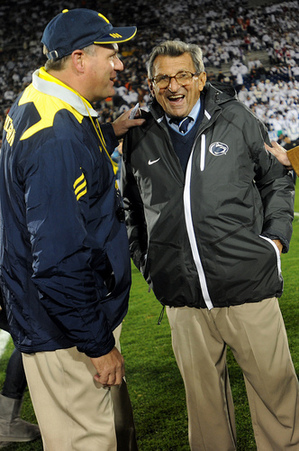 Melanie Maxwell | AnnArbor.com
"There could be cases right now that we don't know about. ... At Penn State it was going on for how many years and nobody knew about it," she said.
Engineering professor Kimberlee Kearfott, the committee vice chair, said the proposed resolution went a step beyond an email Coleman sent out a week after the Penn State scandal broke.
"Up to this point we've had statements (that) were more theoretical in nature," she said. "This is suggesting actions."
"Because we're so large, the university has a large risk for something bad to happen," she continued.
The resolution, accepted by the advisory committee, will go before the full senate next week, where committee members expect it will be the topic of lengthy discussion.
"It's a complex resolution that I think is going to have interesting discussion in the Senate Assembly," said committee member and biology professor John Lehman.
Kellie Woodhouse covers higher education for AnnArbor.com. Reach her at kelliewoodhouse@annarbor.com or 734-623-4602 and follow her on twitter.