Posted on
Mon, Jan 4, 2010 : 5:29 p.m.
Connie Knott Toigo pushed Ann Arbor Public Schools to excel in early childhood education
By Ronald Ahrens
Construction of the Ann Arbor Public Schools' Preschool and Family Center was running behind schedule in 2006. But the principal, Connie Knott Toigo - who more than anyone was responsible for the new facility - determined classes would be held, no matter what.
With only half the planned space available on the opening date that fall, Toigo arranged to have classes in the finished portion of the facility at 2775 Boardwalk St.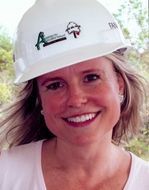 Those who knew her say such dedication and determination were typical of Toigo, who died Dec. 30 of complications from cancer treatment.
"When she set her sights on a goal, she was very tenacious," said Michelle Pogliano, the preschool's assistant principal. "Whatever she was working on would be the best."
The Preschool and Family Center had been in existence for many years, but was "struggling" when Toigo became principal about 10 years ago, Pogliano said. Facilities were scattered among various other units throughout the district. The remodeling of quarters in former administration buildings unified the preschool at a centrally located point.
"She was truly a visionary-type person who took this program from being almost nothing to what it is today," said Pagliano, who was a speech therapist at the school when Toigo became principal. "She saw potential in people that they didn't know they had, and that's what she did for me. She mentored me. I wouldn't be where I am if not for her."
The preschool offers an array of services for children, ranging from newborns to age 6. It averages around 300 students in 13 classrooms, with a staff of approximately 90 employees.
Scott Elliott, program services manager for Ypsilanti Head Start, referred to the preschool as "Happyland."
"I think you don't have to spend a whole lot of time over there to take note that the people enjoy what they do and being there," Elliott said.
Constance Marie Knott was born to Gordon and Joy Knott in Pontiac on March 3, 1962. She graduated from Howell High School in 1980 and earned a bachelor's degree in child psychology and a master's degree in child development from Eastern Michigan University.
Toigo went to work for Washtenaw County Head Start as a teacher in 1986. Her husband, John Toigo, credits the experience with helping to establish her vision.
"Closing the gap in educational opportunity for the poor and the socially or physically disadvantaged was later to become Connie's life passion and her crowning achievement," he wrote in a memorial statement.
She was assistant director at the University of Michigan Hospital's Child Care Center and also worked as a consultant before joining the Ann Arbor Public Schools in 1998.
Toigo and her husband lived on Little Portage Lake near Pinckney and enjoyed hiking, cycling and skiing. She also liked to travel and was "a voracious reader," according to her husband.
Survivors include her husband and stepchildren, John Vincent and Lisa Marie Toigo. She also leaves a brother, Mike Knott, and sisters Cheryl Willacker, Patricia Turner and Vickie Britz.
John Toigo has established the Connie Knott Toigo Endowed Graduate Scholarship in early childhood and special education at Eastern Michigan University. Memorial contributions to the fund should be sent to the attention of Kelly Simpson at the EMU Foundation, 1349 S. Huron St.
A memorial service is tentatively scheduled for 1 p.m. Jan. 17 at Skyline High School.
Ronald Ahrens is a freelance writer for AnnArbor.com. Reach the news desk at news@annarbor.com or 734-623-2530.