Posted on
Thu, Mar 22, 2012 : 2:16 p.m.
Cool down coming to Ann Arbor after 3rd day of record-setting heat
By Cindy Heflin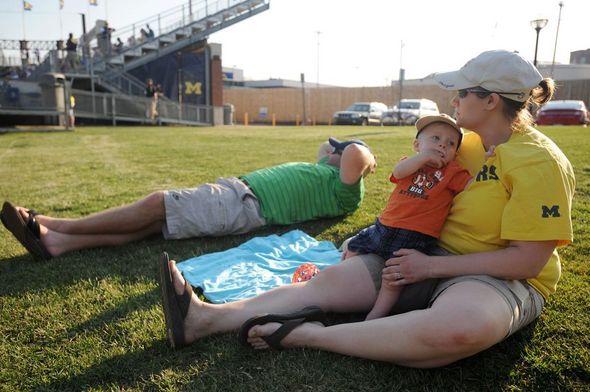 Angela Cesere | AnnArbor.com
Thursday marked the third day in a row of record-setting warmth in Ann Arbor, just the latest in a string of records almost too numerous to count. The temperature was 84 at 1:30 p.m., breaking the old record of 81 in 1938.
You name the record, we've broken it in March: Number of consecutive days above 60 (old record, 10; new record as of Thursday, 12); number of consecutive days above 70, (old record, 6; new record, 9); number of consecutive days above 80 (old record, 1; new record, 3); earliest date above 80 degrees (old record, March 24; new record, March 20).
The high Wednesday was 84, shattering the old record of 74 set in 1918. That followed a record-setting day Tuesday, when the high was 81, breaking the record of 75 set in 1921. "It's pretty remarkable. There's not much to compare this with," said Dave Gurney, a meteorologist with the National Weather Service in White Lake Township.
The only thing left now is to tally up all the numbers at the end of the month and see if it turns out to be the warmest March on record. It might seem that's not in question, but University of Michigan weather observer Dennis Kahlbaum said it's too early to say. "We won't know until the very end," he said.
Thursday is likely to be the last of the record setters for a while though. Rain is expected to move in Friday. The high will still be well above normal, but "only" in the low 70s.
A bigger cool down is coming for the weekend, with highs in the 60s. Highs are expected to be in the 50s Monday and Tuesday.