Posted on
Tue, Jul 16, 2013 : 5:55 a.m.
Corridor plan for State Street wins approval from Ann Arbor City Council
By Ryan J. Stanton
The Ann Arbor City Council voted unanimously Monday night to adopt the new South State Street Corridor Plan, a city planning document more than a year in the making.
The plan, which includes land use and transportation recommendations for the 2.15-mile stretch of State Street from Stimson to Ellsworth, is now an official part of the city's master plan.
City Planner Jeff Kahan said the corridor plan was developed in response to significant changes that have taken place along South State Street over the past two decades.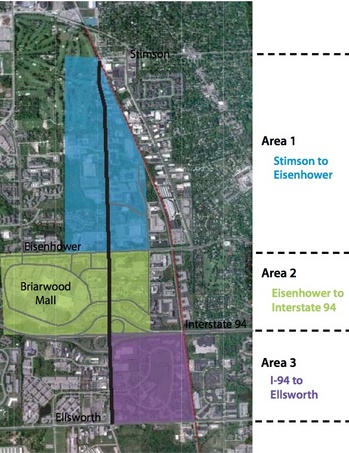 City of Ann Arbor
The Planning Commission determined that because of those changes — as well as strong demand to develop land in the corridor — the master plan's land use and transportation recommendations for State Street should be re-evaluated.
"Because of South State Street's concentration of high-activity uses, proximity to downtown and the highway, and lack of conflicting land uses, the corridor offers a unique opportunity to address community priorities such as transportation infrastructure, land-use patterns, sustainability, and economic development," the new plan states.
The plan states that corridor stakeholders — including residents, business owners, the University of Michigan, Ann Arbor Transportation Authority, Pittsfield Township, and the city of Ann Arbor — are unified in the desire to revitalize the corridor and develop a welcoming gateway that reflects the character of Ann Arbor.
The Planning Commission kicked off the public engagement process for the planning study in spring 2012. That included interviews with 50-plus stakeholders and two public meetings.
The public identified traffic congestion, aesthetic concerns, inadequate non-motorized facilities, poor wayfinding and a desire for more vital land uses as issues to be addressed, Kahan said.
The resulting corridor plan contains goals and recommended actions that tie directly to the city's sustainability framework, Kahan said.
Previous coverage:
Ryan J. Stanton covers government and politics for AnnArbor.com. Reach him at ryanstanton@annarbor.com or 734-623-2529. You also can follow him on Twitter or subscribe to AnnArbor.com's email newsletters.