Posted on
Tue, Mar 6, 2012 : 5:58 a.m.
Council delays decision on enforcement against medical marijuana dispensaries in Ann Arbor
By Ryan J. Stanton
Ann Arbor City Council members decided to postpone action early Tuesday morning on a resolution asking the city attorney's office to cease enforcement against dispensaries.
The reason cited for the two-week postponement was the fact that the meeting lasted past midnight and council members had just spent several hours debating another issue and were tired.
Council Member Sabra Briere, D-1st Ward, is bringing forward the resolution on behalf of the city's medical marijuana licensing board, which is at odds with City Attorney Stephen Postema on what to do about dispensaries in Ann Arbor. The board claims it's trying to license them while it seems Postema is trying to aggressively shut them down.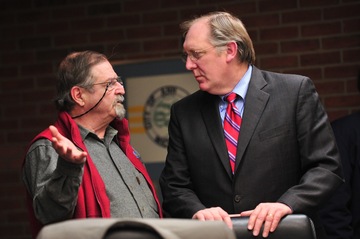 Ryan J. Stanton | AnnArbor.com
The city attorney's office is heavily scrutinizing dispensaries in Ann Arbor and recently sent them letters asking them to reveal detailed information about their business models in order to obtain licenses from the city.
Dennis Hayes, a local attorney who represents most of the dispensaries seeking licenses from the city, had a friendly chat with Postema during a break in Monday's meeting. He spoke with AnnArbor.com afterward about how he perceives the situation.
"We're not really sure what the city is after with regard to the letters they sent out," he said, expressing concerns that dispensaries are being asked to divulge information that could be used as evidence against them if the federal government ever decides to crack down on dispensaries in Michigan.
"There's no way that the city can protect this information," Hayes said. "If they gather the information, on the face of it, it would be prima facie evidence of violating the federal law. Any acknowledgement by a patient and a caregiver that they're transferring medical marijuana is an admission of something that could be considered a criminal offense."
The city attorney's office says medical marijuana dispensaries in Ann Arbor must be in compliance with the Michigan Medical Marihuana Act, but the city's medical marijuana licensing board asked last week: "How can dispensaries be in compliance with the MMMA when they are not even mentioned in the MMMA?"
Hayes wonders the same thing.
"The law doesn't mention dispensaries, so how is the city in a position to say something that's not mentioned in the law is something that the city has to deal with?" he said.
Hayes said he's continually surprised as he learns more and more about the medical benefits of marijuana and all the various conditions it's helping people with. A state-registered patient himself, he said he uses medical marijuana as a pain reliever for his arthritis.
"I've heard hundreds of stories of 'this helped with that,'" he said. "A woman I met just last week from Adrian, her husband had terminal cancer and had been in remission, and then he got the final diagnosis that it wasn't any good. She baked him some brownies and it made his last 30 or 60 days comfortable and pleasant and he was able to deal with his family and relate to them and talk to them about the fact that he was dying."
Added Hayes: "At some point in time, that drip, drip, drip becomes a stream and it becomes a river of information about how this is helping people. I just can't understand why institutions are resistant to helping people."
Postema says he has no personal agenda against dispensaries and that he's just trying to enforce the law.
Ryan J. Stanton covers government and politics for AnnArbor.com. Reach him at ryanstanton@annarbor.com or 734-623-2529. You also can follow him on Twitter or subscribe to AnnArbor.com's email newsletters.