Posted on
Mon, Feb 13, 2012 : 3:04 p.m.
77-year-old driver accused of hitting man in wheelchair then leaving scene
By Lee Higgins
hitting a man in a wheelchair
with an SUV in downtown
Ann Arbor
in December and leaving the scene, court records show.
Betty Powell Chisholm of Ann Arbor was arraigned Thursday in 15th District Court on a misdemeanor charge of failing to stop at an accident.
She is out on a promise to appear. Her attorney, Joy Glovick, could not be reached for comment Monday afternoon.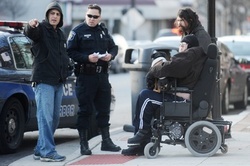 Melanie Maxwell | AnnArbor.com
An Ann Arbor police traffic crash report says Chisholm turned from South Fifth Avenue onto westbound East Liberty Street about 2:54 p.m. Dec. 7 and struck 63-year-old Gerald Foster with a Ford Explorer.
Foster of Ann Arbor, who was heading north in a crosswalk, was knocked from his motorized wheelchair to the street.
"I just kind of froze," he told AnnArbor.com in December. "I knew it was inevitable. I thought this is my last minute on Earth and I looked her right in the eye, just prior to her hitting me and she had her hand up to her ear, talking, and she just slammed into me."
He refused medical treatment, but went to the VA Ann Arbor Healthcare System the next morning because his body was aching.
Foster also has said that the driver who struck him appeared to be talking on a cell phone.
In the report, police said Chisholm "fled the scene" after the collision. A witness told AnnArbor.com in December that a number of children chased the SUV down East Liberty Street and were able to get the license plate number. The SUV swerved around other cars and ran a red light after the collision, the witness said.
An officer caught up with Chisholm at her home, the report says, and she said "she was unaware of the crash and would have stopped if she had hit someone."
"She also stated she was not on her cell phone but did admit to being in the area of question."
If convicted, Chisholm faces up to 90 days in jail. She is scheduled to return to court March 13.
Lee Higgins covers crime and courts for AnnArbor.com. He can be reached by phone at (734) 623-2527 and email at leehiggins@annarbor.com.