Posted on
Thu, Mar 22, 2012 : 5:59 a.m.
An Ann Arbor cop's street-level view of 'March Madness'
By Rich Kinsey
"March Madness" means different things to different people. It depends on your perspective.
Congratulations to the University of Michigan Men's Basketball team, which had a good season, but unfortunately ended its Mad March early. Though there are many fans and merchants who are disappointed that the "M" hoopsters came up short—somewhere there are police and city officials drawing a quiet sigh of relief.
Sometimes "celebrations" in the streets look more like a riot than a celebration. I'm sure Cedar Fest and Final Four celebrations in East Lansing must make East Lansing, State Police and M.S.U. officers feel the same way. "Mob mentality" takes over and crazy, foolish destructive things start to happen when crowds feel they have anonymity and a cause.
The cause might be celebration or protest, but mix good weather and alcohol as catalysts and the results can be disastrous. My compliments to the Ann Arbor Police Department and the other departments that assisted last Saturday night during the St. Patrick's Day festivities. There was little property damage and only the normal weekend number of alcohol and testosterone related broken teeth, noses, jaws and cheeks.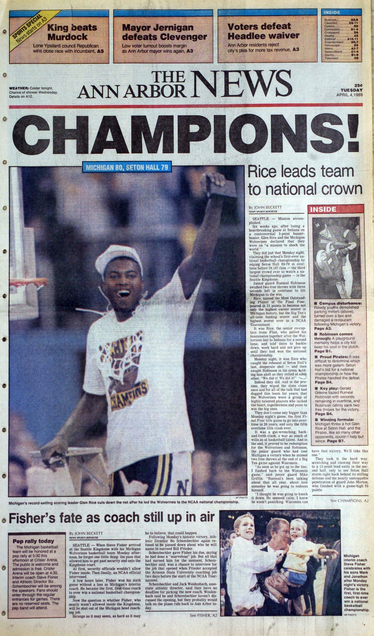 For those of you who have never been downtown during "
March Madness
" celebrations, I thank you on behalf of the police department. Those nights can be crazy on the streets.
The biggest celebrations I recall for Michigan Men's Basketball were in 1989 and 1992. Coach Steve Fisher's team won the National Championship in 1989 and made it to the Final Four in 1992. My recollections do not come from watching games and cheering on the Wolverines, but from the "celebration" turned "civil disturbances" (spelled R-I-O-T) afterward.
In both of those years, South University was a sea of celebrating fans. When the games are over the streets near the bars immediately fill. Students running from the fraternities and sororities across Washtenaw Avenue stop the four lanes as they cross after the game to get near the "action" of the bar area.
Each large celebration brought those that tried to reach the flashing red traffic signal at South University and Church using human pyramids. I'm not sure what the plan was for the top of the pyramid, but we blue suits present did not think pulling down the traffic signal or hanging from electrical wires and cables supporting it was a good idea.
Several times and in different years, I was one of the officers sent to topple the pyramid trying to reach the coveted red beacon. The bases of the pyramid can be persuaded to abandon the cause with a few well places doses of mace or taps on the shins or knees with a baton ("Baton" sounds so much less threatening and more professional than nightstick, stick or club).
In 1989, on the night Michigan won the National Championship, my first assignment was at Forest Court and South University in a car for traffic purposes. The valuable lesson I learned there concerned television lights. If you are an officer in a police car, you do not want a reporter standing outside your driver's door when his cameraman fires up the spotlight and camera.
The result of this seemingly innocuous act was to call wild revelers to the area. Fans dove onto the hood and trunk deck of the police car to get their faces on camera. It was all "good fun" until the joyous group started rocking my police car. The disconcerting car rocking ended when I grabbed the reporter by the back of his trench coat and inquire if he and his cameraman might be so kind as to turn off the light and go elsewhere.
I was relieved at my post by a Washtenaw County Sheriff's deputy sent to staff that traffic point. I locked my police car and walked to the command post for re-assignment.
I saw some rather odd sites as I walked. About 20 fellows were around an unmarked television news truck. Several mistook it for a trampoline. Many cars also got used as trampolines if they choose the parking spots on the street right in front of the bars.
I saw a group of kids scampering up a stairway from an alley up to the roof of a building. I told them to get off the steps and come down. Two did, the rest continued up onto the roof, which was filled with people. I considered for a moment going up and ordering them all off, but figured a lone officer telling them to cease and desist would likely get launched off the roof just for fun. Perhaps I would come back to that "job" later with enough personnel to get it done.
While I was walking to the command post for re-assignment I noticed that walking by myself was easier than I thought. No one pays attention—another lesson learned.
When I arrived, the captain now in charge of the street party directed me to Sgt. Jones' squad. "Where are they Cap?"
"I dunno somewhere near South University and Church."
On any normal evening it would be easy to spot 6 or 8 officers at an intersection a block away. Not the case in the "March Madness" of 1989. I first came to a fire truck that was under siege.
The Fire Department had responded to fire alarm at a Chinese restaurant. They were trying to keep revelers off their fire truck using available equipment normally adapted for opening doors or extricating people from cars. I assisted them by using my "baton" to "conduct"—pun intended -- the more persistent fans from trying to climb on the truck.
I learned two valuable lessons here. First of all even if you weigh north of 200 lbs. it does no good to step on large flat yellow hoses when a group starts running with it down the street. I learned what inspired the idiom "having the rug (or hose) pulled out from under you." This momentary lapse in judgment almost landed me on my backside. However with proper training and good balance one might learn to "surf" such a flat hose, but I will leave that to the cast of the Jackass movies to determine.
The other lesson I learned at the "battle of the fire truck," was that officers should try to stay at crowd level. When the truck started to move, I jumped up on the running boards to coax the last of the hangers-on to let go. That put my helmet-clad noggin above the crowd and made a great target for beer bottles and other projectiles. I jumped off the truck and was no longer a target. I continued my solitary stroll through the crowd to find my squad.
My adventures in crowd "control" will continue next week.
In the meantime along with my weekly advice to "Lock it up, don't leave it unattended, be aware and watch out for your neighbors," I will add -- stay out of East Lansing when the Spartans make it to the Final Four!
Rich Kinsey is a retired Ann Arbor police detective sergeant who now blogs about crime and safety for AnnArbor.com. He also serves as the Crime Stoppers coordinator for Washtenaw County.