Posted on
Fri, Feb 17, 2012 : 5:58 a.m.
Ann Arbor mayor: Take precautions after recent wave of break-ins
By Kyle Feldscher
Ann Arbor city officials are concerned about an increase in break-ins throughout the city during the past three weeks, according to a crime alert sent out Wednesday.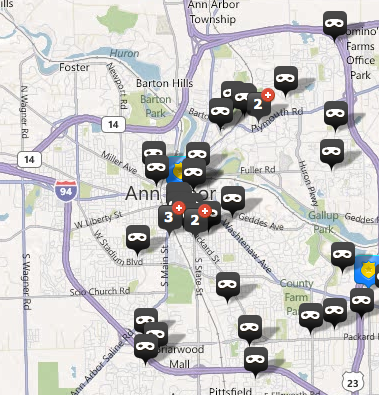 Courtesy of CrimeMapping.com
According to CrimeMapping.com, there have been 40 burglaries reported from Jan. 26 to Feb. 16 throughout Ann Arbor. That's 12 more burglaries than were reported during the three-week period immediately before Jan. 26, according to the website.
City officials sent out a crime alert Wednesday evening to members of neighborhood watch groups in the city. According to the alert, Ann Arbor has had "a significant amount of home invasions in the last two to three weeks."
Ann Arbor Mayor John Hieftje said police have made one arrest related to the home invasions and believe many of the break-ins are the work of a small number of people. He said a streak of increased home invasions is not unusual during a calendar year.
"You get blips like this throughout the year," Hieftje said. "One of the important things to remember is that a couple of people can cause a lot of breaking and enterings."
The investigation into the home invasions is ongoing, and police are actively looking for suspects.
Ann Arbor police detectives released a computer-generated sketch of a home invasion suspect on Wednesday. The man is believed to have knocked on the door of a home on Huronview Boulevard at about 2:47 p.m. Feb. 8 and stolen a computer from a woman who was home alone, according to police.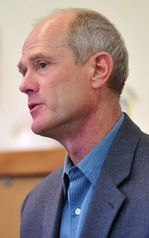 According to CrimeMapping.com, all but one of the Ann Arbor home invasions involved forced entry and 12 of the 40 burglaries occurred during the nighttime hours.
About 22 of the burglaries were reported to have taken place between 8 a.m. and 6 p.m., when home occupants could be expected to be at work.
Ann Arbor police spokeswoman Lt. Renee Bush was unable to comment on the uptick in home invasions Thursday afternoon as she was in training. However, she encouraged city residents to lock their doors and windows at all times and to take safety measures to protect themselves.
Hieftje said Ann Arbor residents sometimes have an inflated view of how safe the city is and don't take proper precautions to protect themselves. He encouraged residents to lock their doors, have a bar to keep screen doors closed and lock their windows.
"People take it for granted that we have a safe city and don't do the things people should be doing," Hieftje said. "They should just take the normal precautions."
Kyle Feldscher covers cops and courts for AnnArbor.com. He can be reached at kylefeldscher@annarbor.com or you can follow him on Twitter.