Posted on
Wed, Apr 11, 2012 : 5:58 a.m.
Ann Arbor police arrest two men accused in March home invasions
By Kyle Feldscher
Two men are facing felony home invasion charges for March break-ins in Ann Arbor, at least one of which resulted in thousands of dollars worth of jewelry, purses and shoes being stolen.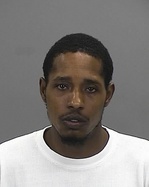 Courtesy of Washtenaw County Sheriff's Office
Michael Hughes, 19, and Eric Gibbons, 27, both face preliminary hearings at 8:30 a.m. Thursday after being arrested last week for March home invasions. Both men are residents of Ann Arbor, according to Ann Arbor police Lt. Renee Bush.
Gibbons has been charged with two counts of second-degree home invasion, according to court records. He's being held in the Washtenaw County Jail on a $15,000 cash bond.
Gibbons is accused of breaking into a home in the 2000 block of Hemlock Drive and stealing about $2,000 worth of jewelry, purses, shoes and a flat screen TV, Bush said. The home invasion occurred some time between 9:30 and 10 p.m. March 24, which is when a neighbor heard glass breaking at the home.
The items belonged to a 31-year-old Ann Arbor woman, who left the house at about 9 a.m. March 24 with everything secured. Her sister returned to the home at 10 a.m. the next day and discovered the property was missing. A bedroom window was smashed when a rock was thrown through it, allowing Gibbons to enter the home, Bush said.
Gibbons also was charged with breaking into a home near the intersection of Plainview Court and Hemlock Drive on the same day, Bush said. The home invasion was reported to police at about 11 p.m. March 24 after the homeowner returned to find the front door open. The homeowner locked it when she left the house at 8:30 a.m., Bush said.
An Xbox game system, Xbox games, Sony PlayStation games and flat screen TV were missing from the home, Bush said. All together, the stolen items were worth about $1,200, she said.
Gibbons allegedly entered the home by cutting the screen to a window. He was arrested after Detective Bill Stanford began to develop leads from the two incidents and linked them together, Bush said. Ann Arbor police Sgt. Paul Curtis and Officer Doug Martelle assisted Stanford in making the arrest, she said.
Hughes faces one charge of first-degree home invasion and is being held in the Washtenaw County Jail on a 10 percent of $2,000 bond, according to jail records.
He is accused of breaking into an apartment some time between 1 and 7 a.m. March 13 in the 700 block of Miller Avenue. The 32-year-old woman who lived in the apartment was asleep when Hughes entered the apartment through a door that had the key left in it, Bush said.
Hughes is accused of stealing an iPhone and laptop from the apartment.
Two other men accompanied Hughes on the night of the home invasion, but they did not participate in the crime, Bush said. On March 29, one of them was arrested and told Stanford the next day that he believed Hughes was the suspect police were looking for, Bush said.
On April 2, Hughes was arrested by Officer Robert Schneider and was turned over to Stanford, Bush said. He was arrested at about 1:50 p.m. while he was walking in the 600 block of East Liberty Street.
If convicted, Hughes faces 20 years in prison and/or a $5,000 fine. Gibbons faces a maximum of 15 years in prison and/or a $3,000 fine on each charge of second-degree home invasion.
Kyle Feldscher covers cops and courts for AnnArbor.com. He can be reached at kylefeldscher@annarbor.com or you can follow him on Twitter.