Posted on
Tue, Apr 3, 2012 : 2:44 p.m.
Police searching for man who robbed Ann Arbor Subway
By Kyle Feldscher
Ann Arbor police are searching for an armed man who robbed the Subway on Eisenhower Parkway on Tuesday afternoon.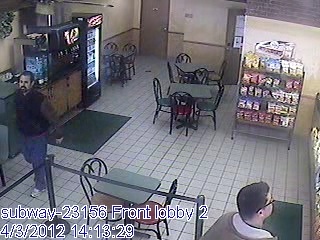 Courtesy of Ann Arbor police
Lt. Angella Abrams said the man robbed the store at about 2:20 p.m. Tuesday and then left the area on foot. The store is located at 885 Eisenhower Parkway in the Colonnade Shopping Center.
Detective Bill Stanford said the man entered the store and hung out for a while, telling employees that he was waiting for a friend. When the store had no customers in it, a worker came out to the main area of the store to clean the floor, Sanford said.
The man then followed the worker through the employee entrance behind the counter and produced a hand gun, Stanford said. He demanded cash from the employee, who complied, and the man left with an unknown amount of money, Stanford said.
The man is described as black, about 5-feet-11 inches tall, average build, with a goatee, Abrams said. He was wearing a blue coat with brown sleeves with blue jeans and white tennis shoes, Stanford said.
He was in his late 20s to early 30s and was slightly balding, Stanford said.
Police are in the process of pulling images of the man off of surveillance cameras inside the store, Stanford said.
Anyone with information on the robbery is encouraged to call Stanford at 734-794-6930 or Crime Stoppers at 1-800-SPEAK UP.
Note: Detective Stanford's name has been corrected.
Kyle Feldscher covers cops and courts for AnnArbor.com. He can be reached at kylefeldscher@annarbor.com or you can follow him on Twitter.