Posted on
Thu, Oct 11, 2012 : 5:58 a.m.
Ann Arbor teenager must pay more than $19,000 for graffiti
By Kyle Feldscher
An Ann Arbor teenager will have to pay more than $19,000 in restitution for spray painting properties owned by Republic Parking and an Ann Arbor man, according to a judge's ruling.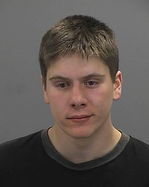 Courtesy of the Washtenaw County Sheriff's Office
Jacob Saalberg, who was 17 when charged in March, will do two years of probation and has to pay $19,319.92 in restitution to Rob Cleveland and Republic Parking for vandalizing their properties. He also has to pay $3,105 in court costs and fines, according to Washtenaw County Trial Court Judge Archie Brown's ruling during a sentencing hearing on Wednesday.
Washtenaw County Assistant Prosecutor Dianna Collins said Saalberg was not remorseful for his actions and told investigators he had spray painted the buildings because he thought it would be fun.
"It will be interesting to see how well, or how poorly, he adjusts to probation," she said.
Saalberg was sentenced under the Holmes Youthful Trainee Act for one count of malicious destruction of property worth more than $1,000 but less than $20,000. The Holmes Youthful Trainee Act means the conviction will be erased from his criminal history should he successfully complete probation. He is on track to graduate from high school this year.
Saalberg also was sentenced to two years of probation on two counts of possession of analogues during the sentencing hearing. He was given a 7411 agreement, which means that if he successfully completes probation, there will be no public record of the conviction.
Saalberg chose not to make a statement to Brown before he was sentenced, but his attorney Lynn Dorio said he had offered to clean Cleveland's building at 220 Felch St. or work for him in order to pay off the restitution, but an agreement could not be reached.
She said Saalberg is indeed remorseful for his crimes and tried to work out an agreement with Cleveland before sentencing because he thought it would be the easiest way to resolve the situation. She said he is a talented artist, but made a young person's mistake.
"That's a logical explanation from a teenager, that he thought it was fun," she said. "If he was a few years older, that would be unacceptable."
Brown said he and Dorio could have a "long debate" about whether the mind of a 17-year-old could determine if it was right or wrong to vandalize a building.
He told Saalberg that the Holmes Youthful Trainee Act is not an opportunity to be wasted, even saying he had a few reservations about giving Saalberg the chance to erase the conviction from his record. However, he made his thoughts on the incident clear.
"You damaged property, sir," Brown said.
Kyle Feldscher covers cops and courts for AnnArbor.com. He can be reached at kylefeldscher@annarbor.com or you can follow him on Twitter.