Posted on
Fri, Apr 5, 2013 : 5:58 a.m.
Final Four, Hash Bash have University of Michigan police preparing for busy Saturday
By Kyle Feldscher
The convergence of several events in Ann Arbor, as well as the possibility of post-game rowdiness after Michigan's appearance in the Final Four, will prompt increased police presence throughout the city Saturday.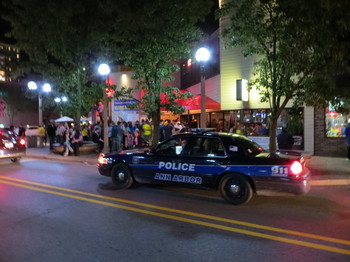 John Counts | AnnArbor.com
Ann Arbor police and University of Michigan police officials said there will be more uniformed officers on patrol than usual Saturday, comparing the deployment to a football Saturday. Ann Arbor police Deputy Chief Greg Bazick said officers from other local police agencies will be in the city to help out as well.
"They will see enhanced uniformed officer presence in the business district … much like what happens in fall for football season," he said. "It's the same type of operational plan that we have for that. People should expect to see an increased uniform patrol presence."
Hash Bash 2013 takes place from noon to 1:30 p.m. Saturday on the Diag on the University of Michigan's campus. The U-M men's basketball team plays Syracuse in the national semifinals at 8:49 p.m.
University of Michigan Police spokeswoman Diane Brown said there are a tremendous amount of events on campus Saturday that will demand a police presence.
The Crisler Center plays host to the 41st annual Dance For Mother Earth Powwow and the 15th annual Dance Marathon at the University of Michigan starts at 10 a.m. Saturday at the university's Indoor Track and Field Building. In addition, there are athletic events on campus, theater events and several conferences.
Brown said the university police are putting together their own staffing plan but are working with the Ann Arbor police to coordinate a plan. She said she expects the city to be very busy Saturday with the various events going on and encouraged people to plan ahead.
"We aren't overwhelmed, but we do encourage people to get to their locations early because the streets and parking areas will be dramatically more crowded," Brown said.
Officers from the Ypsilanti Police Department, Washtenaw County Sheriff's Office and Pittsfield Township Department of Public Safety will be in Ann Arbor Saturday, helping add to the corps of police in town, Bazick said.
He said it's unknown how much the increased staffing levels are going to cost the city in overtime.
"The bottom line will be what it is by the end of the year," he said. "With overtime, it's one of those things we have to manage. We can't ever budget for (potentially making the Final Four) in advance."
Bazick said police are planning for every situation, but he does not expect the local streets to explode in a haze of tear gas, as has happened at other Michigan schools after April basketball success.
He said it's expected that fans will be respectful to city property and each other and he's hoping the police presence will discourage any rowdiness.
"Our focus is going to be on being visible and prevention, instead of reaction," he said.
Kyle Feldscher covers cops and courts for AnnArbor.com. He can be reached at kylefeldscher@annarbor.com or you can follow him on Twitter.