Posted on
Thu, Jan 12, 2012 : 6:34 p.m.
Charges filed against owner of dogs that attacked Pittsfield Township woman
By Lee Higgins
Washtenaw County prosecutors today filed two misdemeanor charges against a Pittsfield Township man who owns two American Bulldogs that attacked and seriously injured one of his neighbors last month and killed her two Chihuahuas.
David M. Goodart, 52, is charged with two counts of having a stray dog, the 14A-1 District Court clerk's office confirmed Thursday afternoon.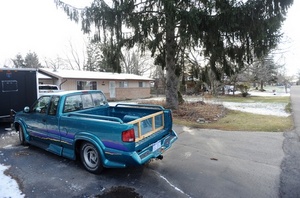 Melanie Maxwell | AnnArbor.com
He is accused of allowing the dogs to get loose and attack his neighbor, 45-year-old Dora Castro at about 3:50 p.m. Dec. 27 on Maple Drive. Castro suffered a broken ankle and received numerous stitches to her face and hands after the attack. Her dogs, 3-year-old Pancho and 10-month-old Thalia, died from their injuries.
Her family members said she was walking down her driveway holding her dogs when the other two dogs managed to get through a chain link fence and attack her. Witnesses rushed to her aid and were able to get the dogs to back off.
Goodart consented to have the dogs euthanized that night at the Humane Society of Huron Valley. He could not be reached for comment today.
Pittsfield Township Deputy Police Chief Gordy Schick said police do not expect to comment until after Goodart is arraigned in court. A date for that arraignment has not been set.
Last week, the victim's family members declined an interview with AnnArbor.com, saying they're planning to hire an attorney to explore possible legal action against the dogs' owner.
Having a stray dog is a misdemeanor punishable upon conviction by up to three months in jail.
Lee Higgins covers crime and courts for AnnArbor.com. He can be reached by phone at (734) 623-2527 and email at leehiggins@annarbor.com.