Posted on
Tue, Jan 31, 2012 : 5:47 p.m.
Counsel who reviewed initial report of resident possessing child porn no longer employed by U-M
By Kyle Feldscher
The attorney within the University of Michigan Health System's Office of the General Counsel who reviewed the report of a resident physician accused of possessing child pornography no longer works at the hospital.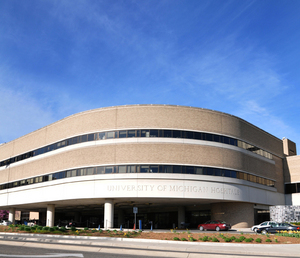 University of Michigan Health System photo
University of Michigan spokesman Rick Fitzgerald confirmed Tuesday that the attorney within the office who had reviewed the case and decided not to inform University of Michigan Department of Public Safety officials is no longer an employee as of June 2011.
Fitzgerald said the university does not discuss personnel matters and he would not comment on how the attorney left the university or whether it was related to the child pornography case.
After the Office of the General Counsel decided not to pursue the case, it was six months before an official with hospital security brought the case to police.
Stephen Jenson, 36, has been charged with four counts of possessing child sexually abusive material and will be in court next month for a preliminary exam.
In May, a resident physician met with her supervisors, hospital security officials and the employee within the Office of the General Counsel about materials she had seen on a thumb drive left in a locked lounge where residents work in the Pediatric Emergency Department, according to records.
The most disturbing image the resident saw on the drive was a photograph of a "nude adult lying" on a young child whose arms "were bound" and appeared to be tied to a bed frame, according to police records.
The Office of the General Counsel for the Health System decided there was not enough evidence in the case to forward the investigation to university police, Fitzgerald said. A few days after meeting with the attorney, the resident who reported the incident was told the matter was closed, records show.
However, in November a member of hospital security reported the incident to U-M police, launching an investigation.
Police executed a search warrant Dec. 2 at Jenson's house in Pittsfield Township and seized several items, including thumb drives — at least one of which contained images of child porn, according to the search warrant affidavit. Photographs of Jenson were on the same thumb drive, according to records.
Numerous university officials, including the hospital's chief executive officer and at least one regent, have faulted how the investigation was handled. U-M President Mary Sue Coleman has ordered an internal review of the case by university auditors, Fitzgerald told AnnArbor.com.
Kyle Feldscher covers cops and courts for AnnArbor.com. He can be reached at kylefeldscher@annarbor.com or you can follow him on Twitter.