Posted on
Sat, Feb 11, 2012 : 5:58 a.m.
DEA: Money is dirty, but getting sick from drug residue is rare
By Kyle Feldscher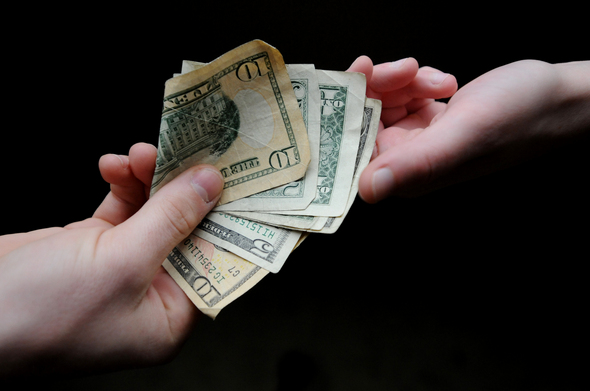 Melanie Maxwell | AnnArbor.com
While United States currency is usually very dirty and can often have drug residue on it, it's rare to find enough chemicals on paper bills to cause the type of reaction found in Ann Arbor's Circle K gas station on Thursday, law enforcement officials.
Three employees at the station fell ill after methamphetamine residue was found on money at the station, according to firefighters.
"You don't hear about people becoming sick from handling contaminated money. That would be rare," Special Agent Rich Isaacson of the Drug Enforcement Administration said.
"There's drug residue on U.S. currency, but for people to become sick, you don't hear of that often."
In Thursday's incident, the DEA advised local authorities on what companies could be called to properly dispose of the money, Isaacson said.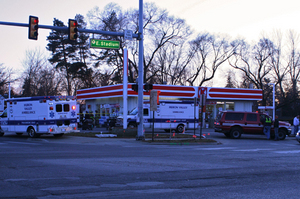 Jessica Webster | AnnArbor.com
Ann Arbor firefighters
responded to the Circle K station
at East Stadium Boulevard and Packard Road at about 3:30 p.m. Thursday, according to Battalion Chief Randy Menard. The Washtenaw County Hazardous Materials Response Team responded and investigated as well.
The county's hazardous materials team determined cash at the station used to purchase money orders had been contaminated with chemicals from a meth lab, Menard said.
Meth labs use common household chemicals to make the drug, such as battery acid and drain cleaner. When combined, the mixtures are hazardous - and officials said they can remain on surfaces and dangerous to humans for some time.
The common response to cleaning up a meth lab is to use hazardous materials protocol, which is why the station was closed Thursday amid the public safety response.
In fact, Congress restored $12.5 million in meth lab cleanup funding to an appropriations bill in late 2011. The money was important to police because finding and prosecuting meth lab operators left communities having to deal with the expensive cleanup of the toxic aftermath.
In Michigan, meth lab cleanup cost more than $1 million in 2010.
In the Ann Arbor incident, the exact nature of the chemicals found on the bills was unclear Friday. However, the gas station re-opened Friday morning.
While most people won't get sick from chemicals on money, about 90 percent of paper money in the United States contains traces of cocaine, according to a 2009 study. However, the amounts are usually not concentrated enough to cause any sort of reaction.
Disease-causing organisms are also known to thrive on paper bills.
According to the CNN story on the study, 94 percent of tested bills contained potentially diseas-causing organisms, such as staphylococcus and pneumonia-causing bacteria.
Isaacson said there had to be a lot of dangerous residue on the bills found at the Circle K in order to actually cause illness in the station employees.
There isn't a typical way for people to protect themselves from harmful residue on money because the chances of being harmed by chemicals on the bills are so rare, Isaacson said.
But be prepared with soap and water - or hand sanitizer - when you're dealing with large amounts of cash.
"Currency is always dirty to begin with, so wash your hands when handling U.S. currency," he said.
Kyle Feldscher covers cops and courts for AnnArbor.com. He can be reached at kylefeldscher@annarbor.com or you can follow him on Twitter.