Posted on
Fri, Mar 2, 2012 : 12:28 p.m.
Doctor at University of Michigan Hospital remains suspended as police investigate assault allegation
By Lee Higgins
A doctor at University of Michigan Hospital has been removed from duty as university police investigate an allegation that he grabbed a patient's arm during an argument earlier this week.
WDIV identified that patient as 19-year-old Lukequan Williams who is being treated at the hospital because he was paralyzed from the neck down after sustaining a gunshot wound.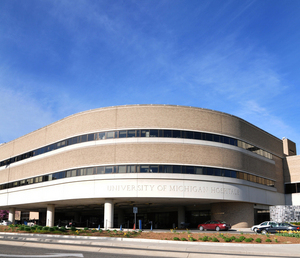 University police spokeswoman Diane Brown said police received a call at 4:50 p.m. Wednesday from Williams' mother saying her son was threatened by a doctor. An investigation revealed the doctor allegedly grabbed Wiilliams' arm once "during a heated verbal exchange" earlier that afternoon, Brown said. The doctor is under investigation for simple assault, but no charges have been filed.
Brown said police had responded to the room earlier that day to deal with another incident. Security had called reporting that Williams allegedly threatened staff members with physical harm. Police also were called by security Feb. 9 to investigate an allegation that Williams threatened staff members with physical harm. The alleged threats did not prompt police to launch a criminal investigation.
Williams' family members could not be reached for comment Friday. They told WDIV that they became concerned when they spoke to him on the phone Wednesday and he said he didn't feel safe.
The doctor's clinical privileges have been suspended, meaning he cannot see patients at the hospital. In addition to the police investigation, the hospital has launched an internal investigation.
Kara Gavin, director of public relations for the University of Michigan Health System, said in a statement that the health system "takes very seriously its patients' safety, any allegation of a threat to that safety, and the safety of our staff."
She said the hospital is "cooperating fully" with the police investigation. University officials declined to release the doctor's name.
Lee Higgins covers crime and courts for AnnArbor.com. He can be reached by phone at (734) 623-2527 and email at leehiggins@annarbor.com.