Posted on
Tue, Apr 9, 2013 : 2:15 p.m.
Ann Arbor officials: Despite 9 fires, night of Michigan basketball loss was relatively tame
By John Counts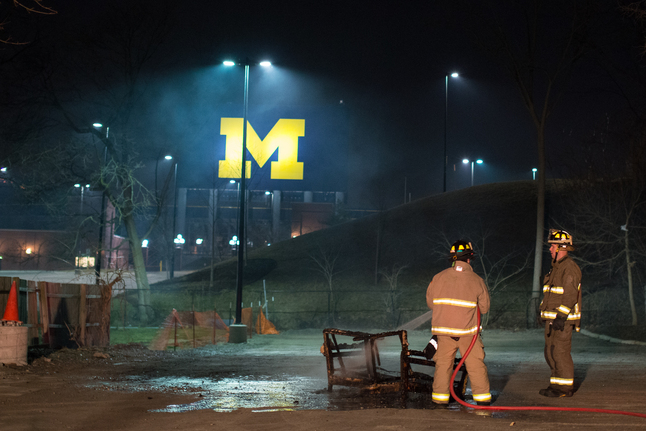 Courtney Sacco | AnnArbor.com
Despite several fires set in Ann Arbor following the University of Michigan's loss to Louisville in the title NCAA men's basketball game Monday night in Atlanta, police said it was a fairly quiet night overall.
The Ann Arbor Fire Department extinguished nine fires throughout the city, according to a news release from Battalion Chief Steven Lowe. Two of those fires appeared to be on campus, according to the U-M police incident summary.
Ann Arbor Fire Chief Chuck Hubbard said the outdoor blazes are being looked into by the Fire Prevention division.
"It's really difficult to investigate something like this," Hubbard conceded.
Some of the fires involved burning couches in the street while others were started with other types of furniture, tree branches and other debris.
The chief said the department was fully staffed and that he was actually prepared for more fires after reading about post-basketball game blazes in East Lansing over the years.
"I anticipated it was going to be worse," Hubbard added.
There also was a heavy police presence Monday night and early Tuesday morning, especially in areas like South University Avenue and Church Street, where dozens of officers from law enforcement agencies all over the county were on patrol.
In the end, the people streaming out of Crisler Center and local watering holes were mostly peaceful. There were two arrests and one medical transport the night of the game, said Ann Arbor police Lt. Renee Bush.
The first arrest occurred at 10:40 p.m. Monday when a 23-year-old Dexter woman was arrested for drunken driving after hitting a parked car near the intersection of South State Street and Monroe Street, Bush said. The woman was not injured in the accident.
A 30-year-old Ann Arbor man was later arrested at The Blue Leprechaun in the 1200 block of South University Avenue for disorderly conduct. Bush said moments after the game ended around 11:45 p.m., the man "was yelling obscenities and assaulted the bartender." The man, who had been drinking alcohol, was ejected and arrested on the sidewalk by police.
The only person taken to the hospital Monday night was a 24-year-old Ann Arbor man who was in the Chevy that plowed into the bedroom at an apartment complex, Bush said.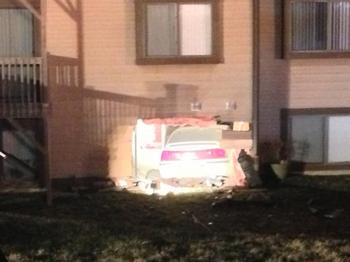 Courtesy of Chase Masters
Three men fled after the car went off Fair Street and ended up in a couple's bedroom in the Manchester Flats apartments around 12:45 a.m. Tuesday. The couple were in the living room watching television at the time and were not injured.
The 24-year-old man returned to the scene of the accident and was taken to the hospital in an ambulance, Bush said. An investigation to identify and contact the two other men continues.
The Crisler Center was filled to its roughly 13,000 capacity for the game viewing event but there were no major incidents to report, U-M police spokeswoman Diane Brown said early Tuesday morning. One intoxicated subject was ejected from the building at 8:10 p.m., more than an hour before tipoff, and two intoxicated subjects were not allowed to enter later in the evening, according to the U-M police incident log.
Also on campus, a fire extinguisher was discharged on West Quad at 542 Thompson St. at 10:42 p.m. Monday. At 1:33 a.m. Tuesday, five subjects were warned for being in the Arboretum after hours, the incident log indicates.
"I thought it went great," Bush said about policing efforts. "Everyone that I saw was very responsible. They were hi-fiving us and we were hi-fiving them. I think it was a good day. I'm just sad they didn't win, but to get this far is amazing."
John Counts covers cops and courts for AnnArbor.com. He can be reached at johncounts@annarbor.com or you can follow him on Twitter.