Posted on
Tue, Jan 17, 2012 : 3:13 p.m.
Grass Lake woman accused of writing bad check in Saline faces charges in Ann Arbor
By Kyle Feldscher
A Grass Lake woman charged with writing a bad check for jewelry at a Saline store is facing similar charges in Ann Arbor, court records show.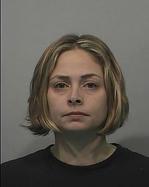 Courtesy of Saline Police Department
Jayme Schaffer
, 32, has been charged with two counts of writing a no account check in two separate cases in
Ann Arbor
. The first case stems from an incident on Nov. 18 and the second comes from an incident on Sept. 12, court records indicate.
Lt. Renee Bush, spokeswoman for the Ann Arbor Police Department, was not immediately available to give more details on the cases Tuesday afternoon.
Schaffer was arrested in November and charged with one count of writing a check with non-sufficient funds, more than $200. According to Saline police, Schaffer wrote a check for $1,547.60 in August to pay for an 18-karat braid style necklace and a 14-karat custom rhodolite ring from Accent Jewelers in Saline.
Police said at the time they believed Schaffer was also responsible for crimes in Coldwater, Howell, Marshall and Ann Arbor. She was arrested in Calhoun County and transferred to Saline in order to be lodged at the Washtenaw County Jail, according to the Saline police report.
A Saline police report said Schaffer has previously been convicted of embezzlement in Jackson County.
Schaffer was in court for a preliminary examination Tuesday morning that was adjourned until 8:30 a.m. on Jan. 26, according to court officials.
Schaffer faces up to two years in prison on each charge of writing a no account check and one year in prison for the charge of writing a check with non-sufficient funds, more than $200.
Kyle Feldscher covers cops and courts for AnnArbor.com. He can be reached at kylefeldscher@annarbor.com or you can follow him on Twitter.