Posted on
Thu, Jan 26, 2012 : 6:21 p.m.
Inmate attempts to grab officer's gun at St. Joseph Mercy Hospital
By Lee Higgins
A Washtenaw County Jail inmate who was being treated at St. Joseph Mercy Hospital early Wednesday assaulted a county corrections officer and attempted to grab his gun, but was restrained after a struggle, authorities said.
Robert Neibler, 27, of Tecumseh, who was awaiting trial on an armed robbery charge, was arraigned Thursday on charges of attempting to disarm a peace officer, attempted escape and assaulting a police officer.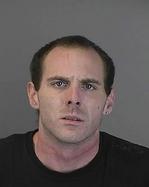 Courtesy of the Saline Police Department
Neibler was taken to the hospital Tuesday night in Superior Township to be treated for self-inflicted injuries, Washtenaw County Sheriff's Department spokesman Derrick Jackson said. Jackson was not more specific on that situation.
As an officer was escorting Neibler to a restroom at 12:30 a.m. Wednesday, Neibler assaulted the officer, Jackson said, and attempted to remove the officer's gun from its holster. Jackson said a struggle ensued and another officer assisted. The two officers restrained Neibler. Everyone involved suffered minor injuries.
At the time, Neibler was being held on $100,000 cash or surety bond as he was awaiting trial on charges, including armed robbery and larceny. Police say he held up a Domino's Pizza in Saline on Monday.
Neibler has prior convictions for breaking and entering and uttering and publishing. He is now being held on a total bond of $125,000 cash or surety, jail officials said, and is scheduled to return to court Jan. 31.
Lee Higgins covers crime and courts for AnnArbor.com. He can be reached by phone at (734) 623-2527 and email at leehiggins@annarbor.com.