Posted on
Fri, May 3, 2013 : 5:58 a.m.
Jury finds man guilty of brutally raping prostitute
By John Counts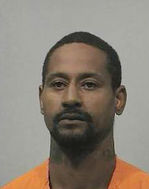 Courtesy of WCSO
A 40-year-old Ypsilanti Township man was found guilty Thursday of beating, slashing and raping a prostitute four years ago.
The decision came four days after the trial in the Washtenaw County Trial Court began for Anthony Derrick Chandler. A jury convicted him of first-degree criminal sexual conduct, assault with intent to do great bodily harm and assault with a dangerous weapon. The conviction could mean a life prison term for Chandler.
The jury started deliberating around 2:30 p.m. Wednesday and came forward with a verdict around 2 p.m. Thursday. They did not convict Chandler as charged, instead opting for the lesser count of assault with intent to do great bodily harm rather than assault with intent to murder.
Assistant Washtenaw County Prosecutor Robyn Liddell built a case based on both victim identification and DNA. The 44-year-old woman identified Chandler from a photographic lineup, when a victim is shown a half-dozen pictures of different suspects. Police became aware of Chandler's possible involvement after DNA evidence from both a glove found at the crime scene and a semen stain on the woman's coat linked him to the assault.
"She began trembling and crying and pointed the suspect out," Liddell said during closing remarks about when the victim saw the photo lineup.
Chandler's attorney, David I. Goldstein, tried to cast doubt on the victim's credibility and testimony. The woman was a working prostitute and crack cocaine addict at the time of the violent rape. She admitted to buying crack before the March 29, 2009 attack.
"There are lots of discrepancies in what she said," Goldstein told the jury during his closing remarks, adding that they should think twice about the woman's claims she didn't immediately smoke the crack.
He also asked the jury to consider how hard drugs affect a person's memory.
The jury heard from several DNA experts called by the prosecution who in varying capacities backed up Liddell's claims that Chandler's genetic material was found inside a glove found in the snow at the scene and on the woman's semen-stained coat.
The experts did say there was evidence of other semen in the victim's body, a point Goldstein tried to use to cast more doubt on his client's role in the attack. Chandler was considered "a major contributor" in the DNA samples, the experts testified, which meant his genetic material was found in higher concentrations in some of the areas tested.
Police used the DNA to connect Chandler with the rape three years after it occurred. As a convicted felon in a different case, Chandler had been required to provide a sample.
After he became a suspect, police re-interviewed the 44-year-old woman and showed her a photograph of six individuals, one of whom was Chandler, who was subsequently arrested and arraigned on charges.
Washtenaw County Sheriff's Office Detective Thomas Sinks testified Thursday about interviewing Chandler the day after his arrest. Sinks said when he showed Chandler a picture of the victim, Chandler took a pencil and wrote, "never seen her before in my life" on the top of the photograph.
Sinks testified he asked Chandler about the DNA match.
"He had no idea, no answer, no explanation," Sinks said.
The rape occurred where South Harris Street dead-ends the railroad tracks in Ypsilanti Township. The woman said she was grabbed while she stood near a baseball field, then dragged by knifepoint into a nearby wooded area where Chandler raped her on a mattress. The woman's hand was slashed as she tried defending herself.
The woman said she did not know Chandler.
Police called to the area interrupted the assault. The suspect fled after seeing patrol car lights and deputies found the bloody woman emerging from the woods.
A warrant for Chandler's arrest was issued on July 10, 2012. Chandler was picked up on a minor traffic stop in Ypsilanti Township Aug. 2, 2012.
Chandler's parents and other family members were in the courtroom Thursday. Some immediately stood up and walked out before the verdict could be read while others waited and said quick good-byes to Chandler, who remained stone-faced and calm throughout the proceedings, on their way out.
He remains in the Washtenaw County Jail while awaiting sentencing June 3.
John Counts covers cops and courts for AnnArbor.com. He can be reached at johncounts@annarbor.com or you can follow him on Twitter.