Posted on
Wed, Mar 21, 2012 : 5:36 p.m.
Man charged in high-speed police chase in Saline
By Kyle Feldscher
The Westland man who was arrested for allegedly driving at high speeds through downtown Saline during a police chase is facing three charges, according to police.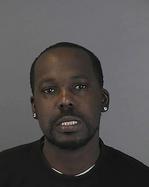 Courtesy of Saline police
Nkruma Burrell, 34, was arraigned Friday on a charge of third-degree fleeing and eluding a police officer, driving with a suspended license second offense and felonious assault, according to Detective Don Lupi. Burrell is not currently lodged at the Washtenaw County Jail, according to records.
The maximum penalty for the fleeing and eluding charge is five years in prison and/or a $1,000 fine, Lupi said. The driving with a suspended license charge is a 93-day misdemeanor, and the felonious assault charge is punishable by up to four years in prison and a $2,000 fine, he said.
According to police, Burrell's wife called police seeking help because the couple was having problems. Officers responded to a business near the woman's home to meet with her and, as they were speaking, Burrell arrived on scene and began yelling, police said.
When Burrell saw police, he drove away from the area and took off east on Michigan Avenue, reaching speeds of 100 miles per hour, according to the police report. When he got to a point east of Industrial Road, he did a U-turn and struck a police vehicle head on, according to police.
The crash caused more than $1,000 in damage to the police car, Lupi said.
Burrell then drove back west on Michigan Avenue, arriving at the location where the chase began before he circled around the business, drove into the parking lot and was blocked in by officers, according to police.
Burrell was arraigned on Friday, Lupi said. His next court hearing is a preliminary exam scheduled for 8:30 a.m. March 27, Lupi said.
Kyle Feldscher covers cops and courts for AnnArbor.com. He can be reached at kylefeldscher@annarbor.com or you can follow him on Twitter.