Posted on
Sun, Feb 26, 2012 : 5:06 p.m.
Man fatally shot after alleged home invasion in Milan is identified
By Lee Higgins
Updated story: Man charged with manslaughter in fatal shooting in Milan
A man who was fatally shot after police said he participated in a home invasion late Thursday in Milan has been identified as Jerald Antonio Ogden of Ypsilanti.
Ogden, 28, was one of two men police said forced their way inside a home on Anderson Street about midnight Thursday and stole property.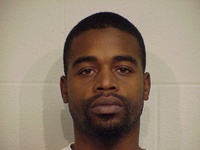 Ogden and an acquaintance were involved in a drug-related robbery, said Ogden's sister, 29-year-old Lasondra Massey of Jackson.
Police said someone who was inside the home followed Ogden and the other man along a path to the Scottsdale Estates subdivision and fatally shot Ogden. The other man left the area. Ogden was found dead behind a car in the subdivision on O'Brian Drive. The autopsy found that he sustained multiple gunshot wounds, said his sister, 25-year-old Natoshia Ogden of Daytona Beach, Fla.
Interim Milan Police Chief Jeremy Nieman said Sunday that someone is in custody in the case, being held on charges. He would not be more specific. It's unclear whether it's the same person who was arrested Friday, suspected in the shooting. Nieman indicated that investigators are making significant progress.
Natoshia Ogden said what her brother did was wrong, but he didn't deserve to die.
"When you follow them and shoot them down in cold blood, it's murder," she said. "To me, nobody has the right to play God or play judge; that's what our justice system is for."
Jerald Ogden was paroled in April of 2010 after being convicted in Washtenaw County of breaking and entering a building with intent and two counts of possessing a controlled substance, state Department of Corrections records show. He also had a conviction for assault with a dangerous weapon.
Natoshia Ogden said her brother had been in trouble with the law since he was 15 years old. However, Lasondra Massey said she thought her brother was turning things around.
He recently got married and was working as a janitor, she said. She spoke with him on the phone Thursday night about coming to Jackson soon to meet for dinner. In addition to his wife, he is survived by his parents, four sisters and five brothers. Funeral arrangements have not been set.
"He was too young," she said. "I don't condone what he did. But at the same time, (someone) shouldn't have chased him down and shot him."
Lee Higgins covers crime and courts for AnnArbor.com. He can be reached by phone at (734) 623-2527 and email at leehiggins@annarbor.com.