Posted on
Fri, Feb 24, 2012 : 10 a.m.
Man found dead after burglary and shooting in Milan
By Lee Higgins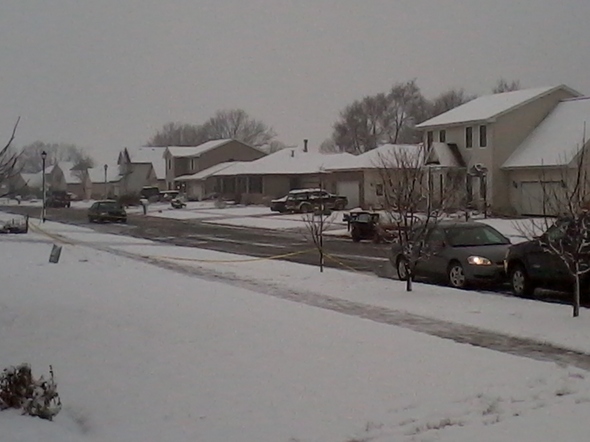 Lee Higgins | AnnArbor.com
A man suspected of being involved in a burglary late Thursday on Anderson Street was found dead shortly after midnight in the nearby Scottsdale Estates subdivision, where witnesses reported that multiple shots were fired, Milan police said.
Police said the man is in his mid-to late 20s, but declined to release his name as they work to notify next of kin.
He was found dead shortly after midnight behind a car parked on O'Brian Drive in the subdivision, which is across Platt Road from Symons Elementary School. Interim Milan Police Chief Jeremy Nieman refused to say Friday afternoon whether the victim had been shot. An autopsy is scheduled for Saturday.
Police also wouldn't say whether anyone has been taken into custody, but said no charges have been filed. At least one other person participated in the burglary, police said. Police said property was stolen, but declined to be more specific.
Milan police were executing a search warrant late Friday morning at the home that was burglarized. Michigan State police and a Monroe County sheriff's K-9 unit were assisting.
Lee Higgins | AnnArbor.com
Shawn Hall, 37, was sitting on his couch around midnight when he heard a "really loud scream" and a couple of gunshots, he said. He looked out the window, grabbed his wife's cellphone and dialed 911. He ushered five of his family members and a friend to the basement. At one point, he saw what appeared to be a man running toward the back of a home across the street, he said, but he couldn't make out who the person was.
When officers arrived, they attempted to resuscitate a man lying behind the car parked on O'Brian Drive, he said.
"It's not the sort of thing you expect to happen in a small town. It's disturbing to say the least," he said.
Dan Weber, 56, said he had just gone to bed when he heard two loud shots at 11:54 p.m.
Weber, who moved to the subdivision in 1999, said it's the best neighborhood in which he's lived. "I know everybody that lives in here. We're all at least acquainted. I'm shocked. I just never would have expected it."
Police said they expect to release more details Friday afternoon. Anyone with information can call police at (734) 439-1551.
Lee Higgins covers crime and courts for AnnArbor.com. He can be reached by phone at (734) 623-2527 and email at leehiggins@annarbor.com.