Posted on
Sun, Feb 12, 2012 : 5:56 a.m.
Preliminary hearing scheduled for man who allegedly robbed bank after leaving hospital
By Kyle Feldscher
The man who allegedly walked out of St. Joseph Mercy Hospital and immediately robbed a bank will return to court for a preliminary hearing next month.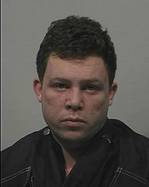 Courtesy of the Washtenaw County Sheriff's Office
Joshua Dettlaff, 32, of Ypsilanti is charged with armed robbery, bank robbery and unarmed robbery for the incident on Jan. 26. If convicted, he faces a maximum of life in prison. He will return to court at 8:30 a.m. March 20 for a preliminary hearing.
According to Ypsilanti police, Dettlaff had been arrested on a minor warrant. Police released him into the care of the Huron Valley Ambulance, who brought him to St. Joseph Mercy Hospital where he was treated and released, according to officials.
After leaving the hospital, Dettlaff walked to the Chase Bank on Huron River Drive near the hospital and told a teller he had a gun, according to police. He left the bank and was arrested by officers from the Eastern Michigan University Department of Public Safety and the sheriff's office along Hewitt Road, according to police.
Dettlaff was discovered running along a bike path near the EMU Convocation Center, according to police.
During his arraignment, Dettlaff attempted to plead guilty to the charges and refused to be represented by the Washtenaw County Public Defender's Office.
He has previous convictions for third-degree home invasion and attempted unarmed robbery in Saginaw County and two convictions for stealing a financial transaction device in Eaton County, according to state records.
Kyle Feldscher covers cops and courts for AnnArbor.com. He can be reached at kylefeldscher@annarbor.com or you can follow him on Twitter.