Posted on
Thu, Apr 26, 2012 : 12:29 p.m.
Michigan safety Josh Furman found not guilty on all charges related to February arrest
By Kyle Feldscher
See related story: Brady Hoke: Josh Furman's status with Michigan football team 'still being evaluated'
This story was updated at 4:02 p.m.
University of Michigan sophomore safety Josh Furman was found not guilty Thursday on all three criminal charges he faced related to a Feb. 11 incident on State Street.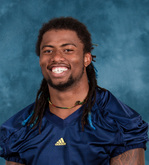 Furman had been charged with domestic violence, assault and battery and illegal entry after he attempted to confront a man who had been sending explicit text messages to him regarding his ex-girlfriend. The ruling was handed down by 15th District Court Chief Judge Elizabeth Pollard Hines, who said she could not rule without a reasonable doubt that Furman's actions that night were criminal.
Gerry Mason, Furman's lawyer, said the charges and subsequent suspension from the football team had weighed heavily on his client. Mason and Furman had declined a plea offer to be convicted of domestic violence with the opportunity to be sentenced under the Holmes Youthful Trainee Act, because Furman would have been removed from the football team.
"He said, 'Try it. I didn't do this,'" Mason said. Furman declined to speak to reporters when leaving the courtroom Thursday morning.
Furman was accused of coming to an apartment located in the 900 block of South State Street in the early morning hours of Feb. 11. Assistant Prosecutor Patricia Reiser had alleged that Furman assaulted the occupant of the apartment and Furman's ex-girlfriend while entering the apartment illegally to attempt to fight a man who had been sending him text messages regarding the ex-girlfriend.
Hines said the testimony presented at the trial did not prove Reiser's assertions beyond a reasonable doubt. She agreed with Mason and Resier that Furman shouldn't have come to the apartment, but the testimony in the trial did not show his actions were criminal.
"He shouldn't have done what he did … but looking at the law, there is insufficient evidence for assault and battery or domestic violence beyond a reasonable doubt," Hines said, adding that there was not enough evidence to prove that Furman was not legally allowed at the apartment's door, where the confrontation allegedly took place.
Furman has been suspended from the football program while the case was pending and Mason said afterward he expected his client to be reinstated. A spokesman for the program was not immediately available to comment on Furman's status Thursday afternoon.
Even though he spent most of his time during Thursday's hearing with his head bowed toward the ground and occasionally wiping his eyes, Furman's face was filled with a relieved smile in the moments after Hines gave her verdict.
The trial began Monday when the two women who were involved in the incident testified they did not feel threatened by Furman during the incident. The women both testified were attempting to hold Furman back from potentially fighting another man who was in the apartment. Mason said that man had been sending Furman explicit text messages regarding his ex-girlfriend.
According to the ex-girlfriend's testimony, she initiated the physical contact with Furman by grabbing his arm and hair. Mason said that it was clear that if Furman wanted to get past the women into the apartment, he could have.
"If this guy is strong enough to get past OSU's (Ohio State University) line, he could've got past these two cheerleaders," Mason said. "But, he didn't do it."
That defense didn't impress Reiser, who argued that no matter how much restraint Furman might've showed, he still forced his way into the apartment and that constituted a criminal offense.
"Bully for him that he's 6-foot-whatever and weighs 200-whatever-pounds and he didn't use his full might against them," she said.
Resier said the testimony on Monday minimized Furman's actions on the night of the alleged offense and the witnesses had watered down their comments. She said it was admirable that Furman's friends and acquaintances wanted to keep him out of trouble, but Reiser still believed Furman was guilty of a crime.
Reiser said regardless of the terms used by the women and their roommate, who also testified on Monday, to describe how Furman tried to enter the apartment — a 911 call played in court Thursday indicated he "forced" his way in, while one woman said Monday he "brushed" by her — he should have been guilty of illegal entry.
"The fact that he used forced at all shows the illegal nature of his entry," she said. "He was not invited in."
However, it wasn't enough to convince Hines — who was the lone decider of guilt or innocence because it was a bench trial — that Furman should be convicted.
"I am just not sure," she said. "I am not sure enough to say there is no reasonable doubt."
Kyle Feldscher covers cops and courts for AnnArbor.com. He can be reached at kylefeldscher@annarbor.com or you can follow him on Twitter.