Posted on
Wed, Mar 14, 2012 : 6:58 p.m.
Security camera image shows SUV towing stolen trailer with handicapped sports equipment
By Kyle Feldscher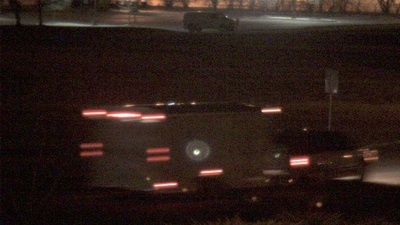 Courtesy of Carolyn Grawi
Security cameras at a business next door captured an image of a vehicle towing away a stolen trailer containing specialized sports equipment owned by the Ann Arbor Center for Independent Living, the center's director said Wednesday.
AACIL Director Carolyn Grawi sent out a picture, captured by cameras at Pixel Velocity, of an SUV that was towing the trailer away at 11:23 p.m. Sunday. She said in a statement that the door on the right side of the trailer is damaged.
"We want the person to know they didn't just get away," she said. "We want them to return the items. They can send information on the whereabouts of our belongings and we or the police will retrieve them."
The vehicle is described as a full-size SUV similar to a Chevrolet Suburban or a Ford Expedition, with running boards and dark trim along the side, Grawi said. Ann Arbor police have sent the description of the vehicle to other police agencies in the area.
Police said the trailer contained between $15,000 and $20,000 worth of handcycles, tricycles and other exercise equipment for handicapped people. Estimates from Grawi and other officials from the center show that the total amount lost was closer to $30,000.
The center is located at 3941 Research Park Drive. The trailer itself was worth about $5,000, police said.
The handcycles that were stolen are a yellow Quickie Shark with x-link fork, a green Invacare XLT with quad grip cranks, an orange Invacare Topend Excelerator XLT Pro, a black Invacare Topend XLT (older model) and a purple Quickie Mach 2.
The leg-pedal trikes that were stolen are a blue Trailmate EZ Roll Regal, a green Freedom Concepts HSR-20, a pewter TerraTrike Short frame, a blue TerraTrike Long frame and a blue Worksman Personal Activity Vehicle PAV3. Grills, T shirts and other miscellaneous items were also stolen.
Anyone with information on the theft is encouraged to contact the Ann Arbor Police Department anonymous tip line at 734-794-6939.
Kyle Feldscher covers cops and courts for AnnArbor.com. He can be reached at kylefeldscher@annarbor.com or you can follow him on Twitter.