Posted on
Sat, Mar 16, 2013 : 5:59 a.m.
Police plan extra patrols as Ann Arbor welcomes St. Patrick's Day weekend revelers
By Kyle Feldscher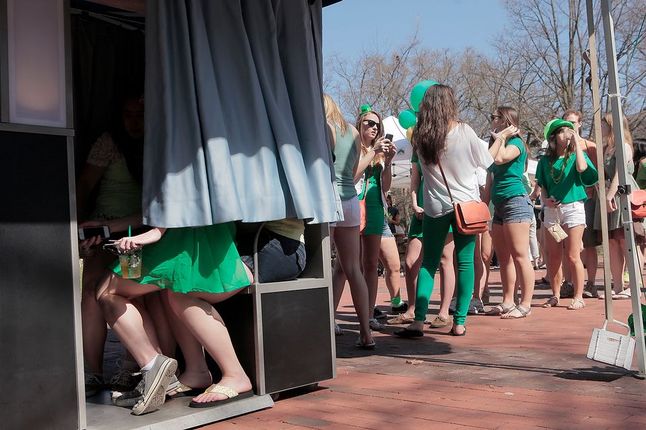 AnnArbor.com file photo
It's the one annual weekend when no one in Ann Arbor minds being seen dressed in green from head to toe.
That's right, it's St. Patrick's Day weekend.
With both Saturday and Sunday set to be busy in Ann Arbor area bars, officials throughout the area are gearing up for the revelers to take to the streets. Ann Arbor police Lt. Renee Bush said extra police patrols will be out on both Saturday and Sunday.
"I really don't know what day is going to be the biggest day because there are so many events happening on Sunday," she said.
"There will be an extra presence in the downtown area. We will be visible, we will have extra visibility those days."
Police are expected to be on a higher alert this weekend after a particularly busy weekend in 2012. Police fielded 475 calls for service and a crowd estimated by police at 200 people — and estimated by others to be near 1,000 — flooded South University Avenue after the bars were closed early March 18.
The University of Michigan sent out an email Thursday, giving students advice on what to do and not to do this weekend. Among the suggestions were staying away from open windows, roof tops and ledges and not walking in the street with alcohol.
Washtenaw County police agencies will be stepping up their drunk driving enforcement as a part of a statewide program funded by the Michigan Office of Highway Safety Planning. Sgt. David Archer, of the sheriff's office, said the University of Michigan Police, Pittsfield Township Department of Public Safety, Saline City Police Department and the Northfield Township Police Department will be working with the sheriff's office in upping enforcement.
March 17, 2012 also marked the now-infamous literary fight, where a man was sent to hospital after being punched at a party by another man following an argument about books. Still-unconfirmed rumors cite the argument was about who was better — J.R.R. Tolkien or Leo Tolstoy.
The lines outside area bars are expected to form early on both Saturday and Sunday. Many bars have specials and are expecting big crowds.
Among those establishments is Conor O'Neills Irish Pub, 318 S. Main St. Micheal Dineen, night manager at the pub, said both Saturday and Sunday are expected to be busy, with lines out the door from when the bar opens at 11 a.m. Saturday and 7 a.m. Sunday.
Dineen said the atmosphere is rowdy and celebratory, but no extra security guards are being hired for the weekend.
"We have our regular staff, we just up it a little bit more to have a lot more on," he said. "We have lines outside all day, we control the crowd a lot and we end up having a lot of people with families."
Dineen said Conor O'Neill's will be having beer and shot specials every hour on the hour both days, in addition to their standard Irish dishes and the always-popular Bud Light.
Despite the less-than-ideal weather forecasted for the weekend — the National Weather Service forecasts a high of 38 degrees Saturday and 34 on Sunday after a possible snowstorm on Friday — the party surely will still be going on outside.
One of the major issues with big party days in Ann Arbor is always the amount of trash that ends up littering downtown Ann Arbor. Luckily for city residents, trash pick-up day is on Monday in much of the downtown area, said Lisa Wondrash, city of Ann Arbor communications manager.
Wondrash said there likely won't be any special trash pick up done in the city because of the regularly scheduled work on Monday.
"It's not going to change," she said.
There also will be some people looking to do a bit of good in Ann Arbor on Sunday, amidst the drunken shenanigans.
Some University of Michigan students will be hanging out from 10 a.m. to 2 p.m. Sunday on The Diag, not to partake in the booze-drenched festivities but to make sure others stay safe.
Manish Parikh, student body president at U-M, said the Bash on The Diag will be providing pizza, desserts and water to students in the area. In addition, there will be music, gifts and other activieis for students.
Parikh said an estimated 6,000 students came by the 2012 version of the event and he's hoping for a similar turn-out this year. Approximately $15,000 was spent on the Bash on The Diag, making it one of the organization's largest events of the year.
"The safety of our entire campus community is extremely important," Parikh said. "Along with the Division of Student Affairs and the Dean of Students, we're putting on one of our most important events of the year … so that Wolverines can keep themselves well-nourished and hydrated and are reminded to stay safe and healthy."
Parikh, university officials and police are clearly preparing for the green cloud descending on the area. However, it's still a bit of a nervy time for those charged with keeping the city safe.
Bush said she didn't know how many people are expected to come to the city for the festivities, nor could she speculate how a cold St. Patrick's Day would play out after years of warmth. The department has been preparing for the weekend for a number of days and she said she's still caught up in the process. She sighed and laughed when contemplating what to expect.
"There's just too many what-ifs," she said.
Kyle Feldscher covers cops and courts for AnnArbor.com. He can be reached at kylefeldscher@annarbor.com or you can follow him on Twitter.