Posted on
Wed, Feb 1, 2012 : 5:59 p.m.
Police: Stephen Jenson had child porn in U-M hospital work bag on Dec. 2
By Lee Higgins
Police said they found child porn on a thumb drive in resident physician Stephen Jenson's work bag in December, roughly six months after University of Michigan Hospital officials learned Jenson might have child porn but didn't tell police.
Details can be found in an audio recording of Jenson's Dec. 17 arraignment that AnnArbor.com obtained Wednesday through the Freedom of Information Act.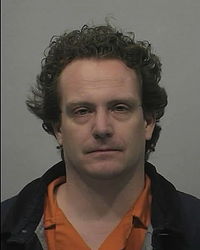 Jenson, 36, who was fired from the hospital in late December, is charged with four counts of possessing child sexually abusive material.
Records show university officials waited six months before filing a report with university police after another resident physician told them she found child porn on a thumb drive that was left in a computer at the Pediatric Emergency Department. She reported that she saw a photo of a "nude adult lying" on a young child whose arms "were bound" and appeared to be tied to a bed frame.
University police Detective Margie Pillsbury testified at Jenson's arraignment at the Washtenaw County Jail, arguing for a $25,000 cash bond. She testified that when police executed a search warrant Dec. 2 at Jenson's home in Pittsfield Township, they found child porn on a thumb drive in his work bag, on a laptop computer in his living room and on a hard drive in his bedroom.
"We executed the search warrant, we recovered numerous items, including laptop computers, external hard drives, and, in Mr. Jenson's work bag, which he wanted to take because he had to work that day and go to work, there were three thumb drives," she testified. "Two of the thumb drives had no pornography or child pornography on them whatsoever.
"One of the thumb drives was the thumb drive that we had identified having been on the hospital computer previously. My counterparts did a forensic examination of the thumb drive and they found three images of child pornography on that thumb drive, including the picture of the prepubescent child nude and bound with ropes or some sort of tying mechanism."
"I asked him how long this has been going on," she testified. "He said it started about five years ago and the most recent incidents was within the last few months. I asked him to explain to me how he came upon these images and he said that he had clicked on links when he was on a website called 'Preteen.'"
She also testified, "My concern is that this is a pervasive issue with him and that it's been going on for a period of time. I don't know how or why he needed to take a thumb drive with child pornography on it to work with him as a pediatrician at U of M Hospital, but it's very concerning."
Pillsbury argued that Jenson was a flight risk because he has no ties to Ann Arbor with the exception of his work at the hospital. She also asked Magistrate Mark Nelson to order that Jenson have no contact with children.
Attorney Daniel Geherin, who represented Jenson for the arraignment only, asked Nelson to release Jenson on a promise to appear. Geherin noted that Jenson has no criminal history and isn't a flight risk. He is originally from Illinois and has family members relatively close by, Geherin said.
If Jenson is convicted, Geherin said, he would likely be facing a term of probation. Jenson is not married and there aren't any children living at his home.
"The offense allegations as I understand them do not include any allegations of creation of images," Geherin said. "They merely suggest that he possessed these materials."
Nelson released Jenson on a promise to appear with strict bond conditions. Nelson ordered that Jenson have no contact with children, wear a GPS tether, surrender his passport to police and not leave the state without permission.
University officials have acknowledged that the child porn allegation made in May wasn't handled properly and the university is conducting an internal review. Police said there are no allegations that Jenson engaged in improper conduct with patients.
Jenson is scheduled to return to court Feb. 16 for a preliminary hearing.
Listen to portions of Detective Margie Pillsbury's testimony at Jenson's arraignment:
Part One:
Part Two:
Lee Higgins covers crime and courts for AnnArbor.com. He can be reached by phone at (734) 623-2527 and email at leehiggins@annarbor.com.