Posted on
Mon, Mar 26, 2012 : 5:05 p.m.
Suspect in triple shooting in Ypsilanti wanted on 13-count felony warrant
By Kyle Feldscher
Ypsilanti police obtained an arrest warrant for 13 felonies against Quenton Dodson, the primary suspect in a Friday night shooting that sent three men to the hospital.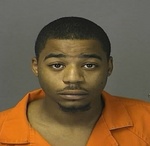 From Ypsilanti Police
Ypsilanti police Chief Amy Walker released a statement Monday afternoon confirming police can arrest and hold Dodson on the charges. Dodson is accused of shooting three acquaintances during a drug deal gone bad Friday night.
Among the crimes Dodson is being charged with are three counts of assault with intent to murder, three counts of assault with intent to do great bodily harm less than murder, four counts of assault with a dangerous weapon and one count each of carrying a concealed weapon, being a felon in possession of a firearm and a felony firearm charge.
Walker stated Dodson is considered armed and dangerous.
The shooting occurred in the 300 block of Jarvis Street near the Eagles Nest Apartments on the edge of Eastern Michigan University, according to police.
Three men were taken to St. Joseph Mercy Hospital after being shot while trying to buy Oxycontin, police said. The victims were aged 18 to 20 years old and were in stable condition as of Saturday morning with non-life threatening injuries, according to police.
One man suffered a stomach wound while the other two were struck in the hip and chest respectively, police said. One of the wounded is from Ann Arbor and the other two are from Ypsilanti Township, and none of the people involved in the shooting were students at EMU, according to university officials.
Dodson is described as 5-feet-8 inches tall, about 160 pounds, with two pierced ears and a scraggly beard, according to police. He was wearing a white baggy shirt, blue jeans and a red baseball cap at the time of the shooting, police said.
Dodson has a criminal history, including convictions for breaking and entering stemming from separate incidents in 2005 and 2006.
Anyone with information on Dodson's whereabouts is encouraged to call the Ypsilanti Police Department at 734-483-9510.
Kyle Feldscher covers cops and courts for AnnArbor.com. He can be reached at kylefeldscher@annarbor.com or you can follow him on Twitter.