Posted on
Mon, Jan 23, 2012 : 11:15 a.m.
Man robs Kentucky Fried Chicken restaurant at gunpoint
By Cindy Heflin
The Kentucky Fried Chicken restaurant near Washtenaw Avenue and US-23 was robbed about 10 a.m. this morning, Pittsfield Township police said.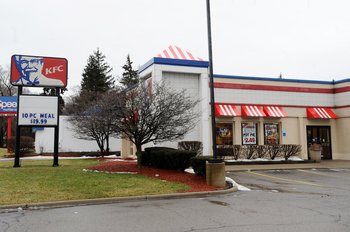 Melanie Maxwell I AnnArbor.com
A message from Pittsfield Township police said a man entered the restaurant,
4040 Washtenaw Ave.
, showed a handgun, then fled with an undisclosed amount of money. The restaurant is across the street from the Washtenaw County Service Center, which houses the county jail.
The robber was described as a black male in his early 20s who was last seen wearing a black jacket, dark blue sweater, black pants and something dark covering his mouth. The robber may have fled in a black Hyundai Sonata, police said.
A message Ann Arbor school district spokeswoman Liz Margolis sent to parents of students at nearby Carpenter Elementary School said an armed robbery occurred about 10 a.m., and as a precaution police asked school officials to lock down all perimeter doors until 11 a.m.
It was the second armed robbery in two weeks in the area. On Jan. 9, a man robbed a Sunoco gas station in the 4000 block of Washtenaw Avenue.
Anyone who witnessed the incident or who may have additional information is asked to call the Pittsfield Township Police Department at 734-822-4911.