Posted on
Wed, Mar 21, 2012 : 1:05 p.m.
Security camera footage shows theft of trailer containing sports equipment for the disabled
By Kyle Feldscher
Ann Arbor Center for Independent Living has released security camera footage showing the recent theft of a trailer containing sports equipment for the disabled.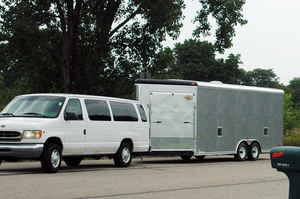 Robert Schnitzer
, a software team leader at Pixel-Velocity, and
Carolyn Grawi
, an official at AACIL, both emailed AnnArbor.com with seven videos showing a vehicle entering the center's parking lot before leaving with the trailer in tow. Officials from the center and Ann Arbor police investigators are hoping the items will be returned, but
so far there hasn't been much good news
.
Ann Arbor police Lt. Renee Bush said this week there isn't anything new to report in the case, but the investigation is continuing.
The trailer was stolen at about 11:23 p.m. March 11 from the center's parking lot at 3941 Research Park Drive. Officials from the center have estimated the theft will cost about $30,000 between the value of the trailer, the handcycles, tricycles and other items inside.
The video shows a full-size SUV, such as a Ford Expedition or a Chevrolet Suburban, speeding into the parking lot before heading back out with the trailer. Security cameras from Pixel-Velocity, a company located next to the AACIL, were able to capture the images.
The theft has thrown the spring exercise programs put on by the center into jeopardy, Grawi said.
To view all of the videos of the theft, click here.
Kyle Feldscher covers cops and courts for AnnArbor.com. He can be reached at kylefeldscher@annarbor.com or you can follow him on Twitter.