Posted on
Fri, Mar 9, 2012 : 8:40 a.m.
Security tight at Lincoln High School after threat is reported
By Lee Higgins
Lincoln High School in Augusta Township will remain on a modified lockdown Friday after authorities received an anonymous tip that there might be fighting or shooting at the school.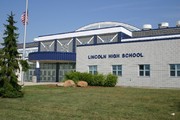 Lincoln Consolidated Schools photo
Two 17-year-old boys who don't attend Lincoln were reportedly looking to retaliate against two 17-year-old students, stemming from a recent fight at a Pittsfield Township restaurant, Washtenaw County sheriff's deputies said. A tip was called into Crimestoppers that there could be fighting or shooting at the school Friday, sheriff's department spokesman Derrick Jackson said.
The four boys have been identified, deputies have interviewed them and are confident that the situation has been addressed, Jackson said. The school has been on a modified lockdown since late Thursday morning.
"We really do believe we've gotten to the bottom of it," he said. No charges have been filed. Jackson said extra deputies will be on hand Friday as a precaution.
Jackson said he wanted to thank the tipster for looking out for the safety of 1,307 students at the school. "There was a credible threat potentially to high school students and they helped avert that."
Ellen Bonter, superintendent of Lincoln Consolidated Schools, said the school notified parents of the threat on Thursday afternoon. She said deputies were quick to respond, ensure the safety of students and identify those involved.
"I'm very pleased that everything worked exactly as it was supposed to," she said.