Posted on
Thu, Mar 8, 2012 : 5:59 a.m.
Sheriff: Snyder's plan an OK start, but doesn't help Washtenaw County
By Kyle Feldscher
Gov. Rick Snyder laid out plans to improve public safety in Detroit, Pontiac, Saginaw and Flint Wednesday, but questions remain from the sheriff about what the state will do to help Washtenaw County police agencies.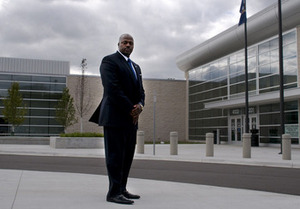 Washtenaw County Sheriff Jerry Clayton said after the speech that he didn't see how Snyder's plans had any direct benefit to his department or to many Washtenaw County police departments.
While some measures Snyder laid out, such as an influx of 180 Michigan State Police troopers and a focus on crime prevention, will help all agencies, Clayton said Snyder should consider sending more funds to local departments in the future.
"We need more proactive policing and you need more local police officers to do things to prevent crimes from happening," Clayton said. "It's an OK start, but I'm hopeful that it's one phase in a multi-phase, long-term strategy that the governor reveals as time goes by."
Snyder focused on the four communities with the highest amount of crime in the state and rightly so, Clayton said.
Such proposals as the Michigan State Police coordinating federal, state and local law enforcement teams to work in those four cities, putting more troopers on the ground there and starting new drug courts in the counties housing those cities are meant to help reduce crime in some of the state's most afflicted areas.
However, those measures almost put more pressure on other law enforcement agencies in the state, Clayton said.
"If you put pressure on that area and drive crime down, you'll push the crime some where else," Clayton said. "If you dedicated all resources in those areas, you'll push the crime to other areas and they won't be equipped to handle it as well."
Many law enforcement officials from around Michigan were probably hoping to hear the governor call for a greater allocation of state dollars to local departments to hire more officers.
However, they eventually were disappointed — Snyder called for just $10 million of the state's $25 million Economic Vitality Incentive Program to be available for a grant fund in 2012-13.
Clayton said any amount of money is appreciated, but losing 3,000 local police officers around the state during the past decade is not going to be fixed by $10 million.
"It's still not a lot for the whole state," he said.
Kyle Feldscher covers cops and courts for AnnArbor.com. He can be reached at kylefeldscher@annarbor.com or you can follow him on Twitter.