Posted on
Thu, Feb 2, 2012 : 2 p.m.
Superior Township man to serve up to 4 years for nearly strangling family member to death
By Kyle Feldscher
A Superior Township man will spend between 19 months and four years in prison for nearly strangling to death a family member he lived with during an alcohol-fueled beating in August.
Ricky Rice Jr., who was 36 when charged, was sentenced on one count each of assault with a dangerous weapon, discharging a firearm in a building and aggravated domestic violence.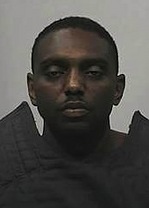 He will serve between 19 months and four years on the charges of assault with a dangerous weapon and discharging a firearm in a building, according to Washtenaw County Trial Court Archie Brown's ruling. He was sentenced to 164 days in the Washtenaw County Jail for the domestic violence charge and given credit for the 164 days he has already served, Brown ruled.
Rice told Brown in court Wednesday that he was remorseful for what he had done and said alcohol played a major role in the incident on Aug. 21. He said he had begun drinking again right before the incident, after 10 years of sobriety, and he had learned his lesson.
"Nobody deserves the things that I did," he said. "Not the victim, not my family, not the court system. … I disappointed myself, my family, my faith and the community at large."
Rice was originally charged with two counts each of assault with intent to murder, assault with intent to do bodily harm less than murder, interfering with electronic communications and one charge each of unlawful imprisonment, assault with a dangerous weapon, assaulting, resisting or obstructing a police officer, domestic violence, reckless use of firearms and a felony firearms charge.
According to Washtenaw County Assistant Prosecutor Arianne Slay, Rice and the victim were arguing on the night of Aug. 20 and continued the next morning. Slay said Rice hit the victim with an open hand in the face, causing her to fall, and did not allow her to make a call on a cell phone.
Rice told the victim he was going to shoot her and grabbed a revolver that belonged to her, Slay said. He pointed the gun at her and moved closer to her as she lay on the floor, Slay alleged. Rice denied that was true while in court Wednesday.
Slay said the victim escaped and ran into a bedroom, and Rice paced outside the door. When Rice heard the victim attempting to make a phone call, he broke into the room and took the phone from her, Slay said.
Rice grabbed a brown belt and wrapped in around the victim's throat, dragging her from the bedroom into the kitchen, Slay said. She said in court Wednesday that the victim was about 45 seconds from death at one point and had blood coming from her mouth and nose, which convinced Rice to loosen his grip.
The victim got away from Rice in the kitchen and ran into the garage, Slay said. Rice followed her and strangled her again with a T-shirt before the victim broke free a final time and alerted neighbors to call police, Slay said.
The revolver fired by itself before deputies arrested Rice, who was found with superficial cuts on his wrists, Slay said. A full can of gasoline was also found in the home's bathroom, Slay said.
"The victim's body was shutting down," Slay said. "She was on her way to death."
Kyle Feldscher covers cops and courts for AnnArbor.com. He can be reached at kylefeldscher@annarbor.com or you can follow him on Twitter.