Posted on
Fri, Jan 20, 2012 : 2:59 p.m.
Teenagers arrested for apartment complex shooting could be charged as adults
By Kyle Feldscher
It will be up to the Washtenaw County Prosecutor's Office to determine if the two 15-year-olds arrested in Thursday's shooting in Pittsfield Township will face adult charges, officials said Friday afternoon.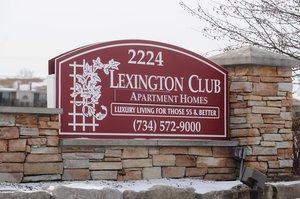 Melanie Maxwell | AnnArbor.com
The two boys and a 24-year-old man were arrested Thursday night after a shooting at the Lexington Club apartment complex, 2224 Golfside Road. Police said one of the 15-year-old boys shot a 33-year-old Ypsilanti man in the back of the head and left him bleeding on the ground.
Washtenaw County Deputy Chief Assistant Prosecutor Steven Hiller said prosecutors have the ability to charge juveniles older than 14 as adults for certain crimes.
The offenses are arson, assault with intent to murder, assault with intent to maim, attempted murder, conspiracy to commit murder, first- or second-degree murder, kidnapping, criminal sexual conduct, armed robbery and carjacking. Conspiracy to commit, or solicitation of, any of those crimes are also charges that can cause juveniles to be tried as an adult, Hiller said.
Hiller declined to speculate on what charges these teens may face or whether they would be charged as adults.
"We look at each case individually, based upon the facts of the case, available evidence and the records of the juveniles," Hiller said. "Everything is on a case-by-case basis. There are no cookie-cutter cases."
Pittsfield Township police responded to the complex at about 7:06 p.m. after receiving multiple 911 calls reporting a man on the ground, bleeding. The man was shot just outside the door to a building in the northeast area of the apartment complex, according to Deputy Police Chief Gordy Schick.
The teens met the man at the complex shortly before the shooting, according to police. Officers are investigating whether it was drug-related.
The teens were arrested at about 10:30 p.m. when Pittsfield Township police surrounded an apartment inside the building and ordered the suspects to come outside, Schick said.
Police said the 33-year-old Ypsilanti man who was wounded remained in critical condition Friday morning. An update on his condition was expected later Friday afternoon.
The teens, and the 24-year-old man they were arrested with, have not been charged with a crime and no arraignment is scheduled as of 2:45 p.m. Friday, Hiller said. Juveniles who are not charged as adults must be arraigned within 24 hours of their arrest, Hiller said.
The apartment complex is meant for residents above the age of 55 and is generally a safe place, according to D.J. Jimenez.
Jimenez came upon the scene of the shooting Thursday night when visiting his grandfather, who lives in the complex. He said he was surprised to see the area roped off by police tape and many police cruisers in the area.
"There were like five cop cars every where, there was a police line and I was like, "Man, someone must have got murdered,'" Jimenez said.
The investigation into whether the shooting was drug-related surprised Jimenez. He said he had never heard of any crime in the complex or any drug-related issues there. He said he's been coming to the apartments to visit his grandfather for the past year.
"It's a safe place," he said.
Hiller said there have only been two cases of juvenile offenders charged with murder as adults in Washtenaw County since 2000. Among all of the offenses, an approximate average of 10 juveniles are charged as adults each year in the county, he said.
Kyle Feldscher covers cops and courts for AnnArbor.com. He can be reached at kylefeldscher@annarbor.com or you can follow him on Twitter.