Posted on
Sat, Jan 21, 2012 : 7:30 p.m.
Teens charged in Pittsfield Township shooting remain jailed on $500,000 bonds
By Lee Higgins
Three teenagers accused in a robbery Thursday night in Pittsfield Township in which a man was shot in the back of the head remained jailed Saturday afternoon on $500,000 cash or surety bonds.
Steven Hall, 19, Farai Munetsi, 16, and Charles Johnson, 15, all of whom are from Ypsilanti, are charged with conspiracy to commit armed robbery and were arraigned Saturday morning at the Washtenaw County Jail.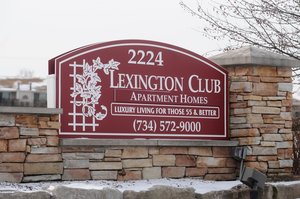 Johnson, who police said pulled the trigger in the apparent drug-related shooting at Lexington Club at Ann Arbor apartments, also is charged with assault with intent to murder.
The 33-year-old victim, who is from Ypsilanti, remains in critical condition, police said in court this morning. Investigators said he collapsed after being shot once in the head at about 7:06 p.m. outside a door to a building in the northeast area of the complex.
In an interview this morning at the county service center where Hall's arraignment was televised in the lobby, Johnson's father said Johnson was released from the county's juvenile detention facility on Tuesday. He said Johnson has been charged with six felonies in the past two years and was most recently in custody for a probation violation.
He said his son has been arrested for breaking and entering, retail fraud and home invasion. His son, who attends Huron High School, struggles with bi-polar disorder and attention deficit hyperactivity disorder and family members have pleaded with the court system to place him in a residential treatment facility for a long period of time.
"Basically the Washtenaw County Court system has failed him," his father said. "He's been in and out of detention for the last four years. Recently, he was locked up for two months. We've been begging for help."
Johnson's father insisted on anonymity out of fear of retaliation for the shooting. He said Johnson, who has three younger siblings, went to church with his family Tuesday night and was home Thursday afternoon, playing video games, hours before the shooting. He's not aware of his son ever using drugs or handling a gun. He said Munetsi is his son's friend, but he doesn't know how his son knows Hall. Johnson's mother also showed up at the service center today. His father said they've been thinking of the victim's family.
"We've been praying for them and everything," he said. Police have not released the victim's name.
About 10 people watched Hall appear in court and waited in the lobby to watch the hearings for Johnson and Munetsi. A county sheriff's department employee mistakenly turned off the television and told people they couldn't watch the hearings, thinking the proceedings weren't public because the two teenagers are juveniles. However, prosecutors said Saturday afternoon they have charged them as adults.
Police said Johnson and Munetsi met up with the victim at the complex shortly before the shooting. At some point, Hall had possession of the gun that was used to shoot the victim, police said in court today.
Hall said during his arraignment that he has no adult criminal record, but has a juvenile record. He's single, lives with his mother and has a newborn baby. On Wednesday, he interviewed for a job at a recycling plant and was scheduled to start working there Monday, he said. Magistrate Mark Nelson said he would appoint a public defender to represent Hall. Hall asked to be released on a promise to appear, but Nelson told him that wasn't possible given the serious nature of the charges.
Preliminary hearings in the cases are scheduled for Jan. 31.
Lee Higgins covers crime and courts for AnnArbor.com. He can be reached by phone at (734) 623-2527 and email at leehiggins@annarbor.com.