Posted on
Tue, May 24, 2011 : 12:15 p.m.
Three charged in beating and robbery of pizza delivery driver in Ypsilanti Township
By Lee Higgins
Three men are accused of robbing and seriously beating a pizza delivery driver Sunday morning in Ypsilanti Township, leaving him hospitalized, Washtenaw County sheriff's deputies said.
Michael Anthony Hellems, 18, and Michael Thomas Brooks, 17, both of Ypsilanti Township, and Robert James Word, 20, of Belleville are each charged with assault with intent to commit great bodily harm less than murder and two counts of armed robbery.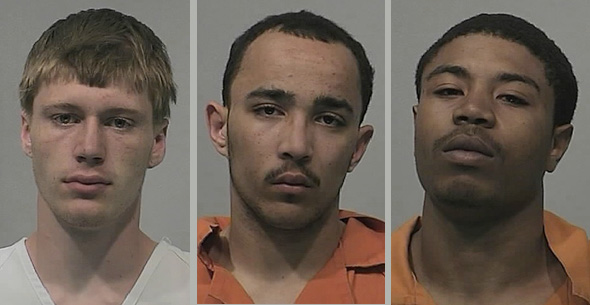 They were arraigned Monday afternoon at the Washtenaw County Jail, where each is being held on a $500,000 bond, jail officials said.
Sheriff's department spokesman Derrick Jackson said the men approached the driver at 1:46 a.m. Sunday in the 200 block of Ashley Court, where he was making a delivery. One of the men pulled a gun and attempted to rob the driver, Jackson said. The driver fought with the men, who then began punching and kicking him, Jackson said. It's unclear what the men allegedly stole.
When deputies arrived, they found the 56-year-old driver badly beaten, Jackson said. The driver, who is from Van Buren Township, was taken to St. Joseph Mercy Hospital.
The men were arrested shortly after the robbery.
Jackson said he did not have an update on the victim's condition.