Posted on
Mon, Jan 30, 2012 : 5:38 p.m.
U-M Health System CEO calls delay in reporting child porn 'painful moment in our history'
By Lee Higgins
University of Michigan Health System
CEO
Ora Pescovitz
wrote in a blog post today that the university has "identified significant problems" with the way it handled an allegation last May that child porn was found at U-M Hospital.
AnnArbor.com broke the news Sunday that university officials waited six months before filing a report with university police after records show a resident physician found child porn on a thumb drive in the Pediatric Emergency Department.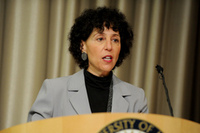 Recently unsealed court records show that the physician found an illegal image May 23, spoke with her supervisors and met with hospital security officials and the Office of the General Counsel about it. However, the incident wasn't reported to police until Nov. 21, when a hospital security official came forward. Stephen Jenson, 36, who worked at the hospital as a resident physician until late December, is charged in the case with four counts of possessing child sexually abusive material.
"The creation, use and distribution of child pornography is appalling on every level, and in situations like this when there are mistakes in how such a situation was handled, human nature makes us want to quickly identify and resolve the problem," Pescovitz wrote today on her blog, "Medicine That Speaks."
"However, jumping to quick conclusions and making assumptions with partial information isn't the answer. That's why the University is engaged in a comprehensive review into what went wrong in this particular case. This review and taking appropriate action are top priorities for President Coleman, for me and for leadership across the Health System and the University. We will make improvements to prevent this from happening again."
She wrote that the health system has a responsibility to "protect and care for the community's most vulnerable members."
"I want to take this opportunity to remind you — our valuable Health System faculty and staff — that is is our collective responsibility to be diligent in reporting behaviors and actions that are inappropriate, and that we applaud and support those who have the courage to do so. It isn't always easy to speak up, but it is always the right thing to do. And it is my and all leadership's responsibility to thoroughly and timely investigate reported concerns."
She reminded people that police haven't found any evidence of improper conduct with patients in the case.
"Undoubtedly, we should have done better. Moving forward, we will."
Lee Higgins covers crime and courts for AnnArbor.com. He can be reached by phone at (734) 623-2527 and email at leehiggins@annarbor.com.