Posted on
Thu, Jan 19, 2012 : 9:55 p.m.
U-M window peeper faces federal child porn charges
By Lee Higgins
A man serving prison time for a string of window peeping incidents on and near the University of Michigan campus is facing federal charges after investigators say they found more than 10,000 images of suspected child porn on hard drives he owned.
Christopher Reckinger Filipek, 31, formerly of Plymouth, was charged Thursday in a federal criminal complaint with possession of child pornography.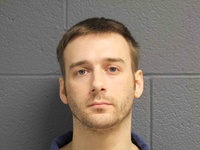 Authorities say Filipek looked into the windows of at least three women in November 2010 on and near the University of Michigan campus in Ann Arbor while he was masturbating. Two incidents occurred in the Oxford Housing area.
On Jan. 14, 2011, while under surveillance, Filipek was arrested by U-M and Ann Arbor police detectives near East University Avenue, where they saw him prowling, federal court records say. He had a "cell phone and three bottles of hand lotion" with him, according to an affidavit by U.S. Secret Service Agent Kevin Nowakowski.
Detectives executed a search warrant on his cell phone and found numerous videos of peeping incidents, the affidavit says. The videos were shot from the outside of buildings and showed "women in different stages of getting dressed and undressed."
One video was shot from inside a car of a woman in a store window display dressing and adjusting mannequins. Filipek's voice can be heard on the video, the affidavit says, questioning whether he should "tap on the glass" and start masturbating.
Investigators also executed search warrants on two occasions at his home and recovered a total of 10,862 images of suspected child porn, records show.
Filipek is at Kinross Correctional Facility in Kincheloe, serving a minimum of five years and 10 months in prison after being convicted in Washtenaw County Circuit Court of aggravated indecent exposure, indecent exposure by a sexually delinquent person and five counts of capturing/distributing an image of an unclothed person.
It's unclear when he will make an initial appearance in federal court.
Lee Higgins covers crime and courts for AnnArbor.com. He can be reached by phone at (734) 623-2527 and email at leehiggins@annarbor.com.