Posted on
Mon, Mar 12, 2012 : 3:59 p.m.
Police: Whitmore Lake man arrested after traveling to West Virginia to have sex with 12-year-old girl
By Kyle Feldscher
A 33-year-old Whitmore Lake man was arrested in West Virginia as he was in the backseat of a car with a 12-year-old girl he had traveled to have sex with after meeting her online, according to reports.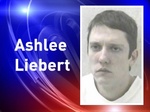 Courtesy of WSAZ
Northfield Township police officers executed a search warrant on the man's home Sunday in the 200 block of Apple Blossom Court in Northfield Township to assist the Putnam County Sheriff's Department in West Virginia. The man has been identified by WSAZ in West Virginia as Ashlee Liebert.
According to Northfield Township police, they were told by investigators that it appears Liebert had traveled to West Virginia to have sex with the girl. Police said Liebert and the girl were caught together minutes away from the girl's home and were both in the back seat of a vehicle.
According to WSAZ, Liebert was on top of the girl in the back seat of the vehicle and he admitted to touching her inappropriately.
Liebert has been charged with sex abuse by a parent or guardian and third-degree sexual assault, according to police.
Detectives came to Michigan to take the evidence gathered from Liebert's home during the Northfield Township search, according to police. Putnam County investigators are still looking for any additional victims in the case, police said.
According to WSAZ, Liebert told deputies he met the 12-year-old girl on World of Warcraft, an online game, and developed a five-month-long relationship. He told police he suspected the girl was having a relationship with someone else and had gone to West Virginia in order to bring her back to Michigan to live with him, the station reported.
The girl told a friend that she was planning to run away with Liebert and that friend told a parent, who then called police, WSAZ reported.
Liebert is being held in Western Regional Jail on a $250,000 cash bond, according to WSAZ. The station reports that Liebert told police he'd still like the girl to come with him to Michigan because their "love was so strong."
Kyle Feldscher covers cops and courts for AnnArbor.com. He can be reached at kylefeldscher@annarbor.com or you can follow him on Twitter.