Posted on
Sat, Mar 24, 2012 : 7:39 a.m.
Ypsilanti Police seeking suspected gunman after 3 shot during drug deal
By Paula Gardner
The suspected gunman who fired on three acquaintances after a drug deal went bad Friday night is still at large, Ypsilanti Police said Saturday.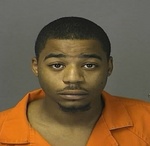 From Ypsilanti Police
Quenton Martez Dodson, 24, is wanted by police for attempted murder, according to officials.
He was still at large at noon Saturday, but police remain in pursuit.
"We're following up on some leads and some tips," said Detective Sgt. Troy Fulton.
Dodson is believed to be the gunman who fired upon three people in the 300 block of Jarvis, on the edge of the Eastern Michigan University campus, on Friday evening.
According to a report in the Eastern Echo that quotes a student who helped one of the victims, the location was near the Eagles Nest Apartments. Dodson lives in that area, Fulton said.
The victims, ages 18 to 20, were rushed to area hospitals, police said. Their conditions stabilized overnight, said Sgt. Kevin Dorsey.
Police worked overnight sorting out details of the crime, Dorsey said.
So far, it appears that the victims and a fourth person were attempting to buy Oxycontin and Dodson was involved.
The shooting evolved after "a dispute over what exactly they were supposed to be getting," during the buy, Fulton said.
The deal went south, and Dodson pulled out a handgun and fired on the group.
One man was struck in the stomach, and arriving officers tending to him learned that two others also were shot, one with a wound to the hip and the other struck in the chest.
EMU issued a warning to students, due to the incident's proximity to campus. None of the people involved in the shooting were students, according to police. One victim is from Ann Arbor and two are from Ypsilanti Township.
"This was not a random act," said Bob Heighes, acting chief of EMU's Department of Public Safety.
EMU officers assisted Ypsilanti police as the incident unfolded, Heighes said, and they've reviewed surveillance video from the areas of campus closest to it.
That turned up no leads on where Dodson may have gone, Heighes said.
"The guy ran away from campus," he said.
DPS has received some calls regarding the incident, Heighes added, and his staff has been reassuring students that the shooting victim and suspects have no ties to the university.
Dodson was sentenced in 2006 for two breaking and entering charges, once each in 2005 and 2006, according to Michigan Department of Corrections records. Both of those crimes took place in Washtenaw County. Additional details were not available early Saturday.
He's described as 5'8" tall and about 160 pounds. Both of his ears are pierced, and he has a scraggly beard, according to alerts. At the time of the shooting, he was wearing a white baggy shirt, blue jeans and red baseball cap.
Anyone with information should call Ypsilanti police at 734-483-9510.