Posted on
Tue, Jul 17, 2012 : 5:51 p.m.
Crowds head for air conditioning with record-breaking heat in Ann Arbor
By Amy Biolchini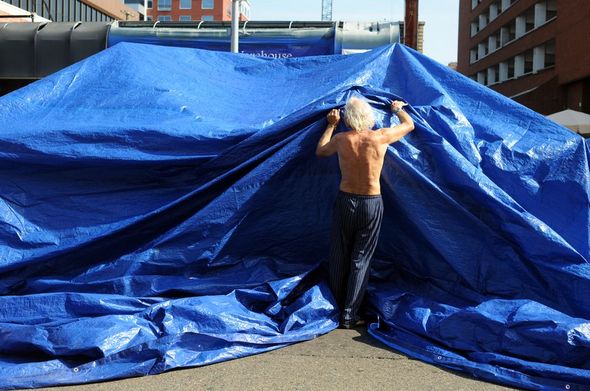 Melanie Maxwell I AnnArbor.com
Record-breaking temperatures
Tuesday in the
Ann Arbor
area found people seeking the shelter of air-conditioned spaces.
Temperatures peaked at a high of 102 degrees Tuesday, according to readings about 4 p.m. at the Ann Arbor Airport, breaking the previous record for the date of July 17 of 93 degrees in 2011.
The heat wave coincided with the setup for the Ann Arbor Art Fairs Tuesday as more than a thousand artists arrived in downtown Ann Arbor to set up shop for the four-day event.
Tuesday marks the third time this summer area temperatures have stretched over 100 degrees. Movie theaters and shopping centers have reported an influx of people seeking relief from the heat.
Grass fires continue to pop up across Washtenaw County, with at least four minor reports as of Tuesday evening.
Briarwood Mall manager Ida Hendrix said people have been visiting the mall more this summer with the longer periods of extreme heat.
"They're working on their computers in here, reading books in here," Hendrix said.
Food merchants have been doing particularly well, Hendrix said, as cold beverages have been in high demand.
Celeste Choate, associate director of the Ann Arbor District Library, said library branches are open to anyone who would like to walk in.
During the Ann Arbor Art Fairs, Choate said she's anticipating many additional visitors looking for a place to get a drink of water and cool off.
The hot afternoons have prompted many to head to the movies instead of spending them outside.
James Sjostrom, manager at the Goodrich 16 movie theater at 3686 Jackson Road in Ann Arbor, said he's seen a shift in busy times from the evening to the afternoon.
"It's usually the other way around, because people enjoy the afternoon and then go to the movies at night," Sjostrom said. "In general, business has been really good."
Children's movies are particularly in high demand, Sjostrom said, and crowds usually drop off after the matinee shows.
Amy Biolchini covers Washtenaw County, health and environmental issues for AnnArbor.com. Reach her at (734) 623-2552, amybiolchini@annarbor.com or on Twitter.